continued — Event emcee American Legion Post 446 Adjutant Gene Pierce said U.S. citizens should remember the soldiers' sacrifice, throughout each year.
"Every day should be Memorial Day," he said. "Honoring all those who gave their lives for our nation — so we can complain and do the things we do — with the Freedom of Speech we enjoy," he said.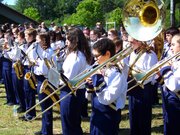 Boy Scouts of local Troop 100 participated in the ceremonies. Scout MacKenzie Blydenburgh led the Pledge of Allegiance. Troop members Thomas Birkholz and Brandon Bailey read patriotic essays.
Navy Veteran Andy Sprague read the names of the soldiers from Warrensburg who died in combat. Following a rifle salute, Allison Lanfear, a sophomore at Warrensburg High School, played taps on her trumpet. Earlier in the day, Sprague and Lanfear had participated in another ceremony to honor those who served in the U.S. Navy, Merchant Marine and Coast Guard. Shrouded in mist, the several dozen veterans and citizens had tossed white carnations into the Schroon River to pay respects.
At the later service, Warrensburg High School vocal director James Corriveau sang a stirring rendition of the national anthem, and led the crowd in singing "God Bless America."
Ladies of the Warrensburg VFW Post 4821 Auxiliary and American Legion Post 446 Auciliary laid wreaths at the veterans' memorial.
Carson Parker of the American Legion read the names of those veterans who passed away since last Memorial Day, asking the crowd to remember them for their service to the nation — Cliff Dureau, Harold Cooper, Josephine Cooper, Jerry Sebald, Vernon Winch Jr., Patsy Brooks, Alfred Leslie Olden, Frank "Red" Sherman, Eric Fagnano, Charles DeVitto, James Morwood, Thomas A. Van Salisbury Sr., Robert A. Jones Sr., Earle Dibble, Edgar Hayes, Joseph Nemec Sr., John Engle, Robert Mosher, Rev. Charles Metzger, Frank Soldwedel and Charles Altman.
Holy Cross Episcopal Church Pastor Thomas Pettigrew offered the invocation and benediction.
"May the deeds of those who have served our country through the years provide us with daily inspiration," he said.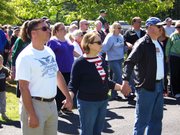 In concluding the ceremony, Pierce noted that the ranks of local World War II veterans were thinning quickly, but he appreciated how townspeople paid their respects to those who served.
"I am proud to be from a town that honors their veterans," he said, looking at the crowd.
Vote on this Story by clicking on the Icon