WARRENSBURG — One of the largest crowds recorded in the last 30 years gathered May 27 to participate in Memorial Day ceremonies and pay respects to those who sacrificed their lives on behalf of our nation. Preceding the memorial services was the annual parade — a display of pageantry and pride, with dozens of people of all ages marching up Elm and Hudson streets.
Paraders included firefighters in full dress uniform with their antique fire equipment, emergency medical responders with their trucks, plus dozens of scouts and young ball players.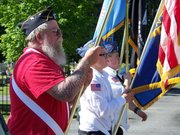 The Warrensburg High School Marching Band, accompanied by a flag-twirling corps, offered tuneful selections.
Leading the procession, as he has for about a quarter century, was Army veteran William Lamy. Directly behind him was a contingent of the new local American Legion Riders group — Scott and Michelle Bedell, Richard Ovitt and Brett Moulton astride motorcycles. Parade Grand Marshal for 2013 was veteran Thomas Lloyd of Thurman, who served in the Army Air Force from Aug. 1947 to 1951.
Town Supervisor and Fire Co. President Kevin Geraghty offered the keynote address.
"Today is a time of remembrance and reflection on our military heroes who answered the call of duty and served out country with distinction," he said, recounting the many conflicts since World War II. "Today is a time to extend tributes of thanks and share collective memories of these troops, as people gather here — to reflect on the valor of the fallen and the bond of freedom that unites Americans."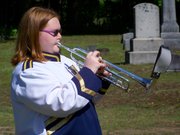 He said these departed military personnel protected our way of life.
"It's easy for us to forget the pain and suffering many have gone through, but at least today we can take a minute to thank a veteran for their service to our country," he said. "These brave men and women, your family members, neighbors, coworkers and many more will not be forgotten and will remain forever in our hearts."
(Continued on Next Page)
Prev Next
Vote on this Story by clicking on the Icon