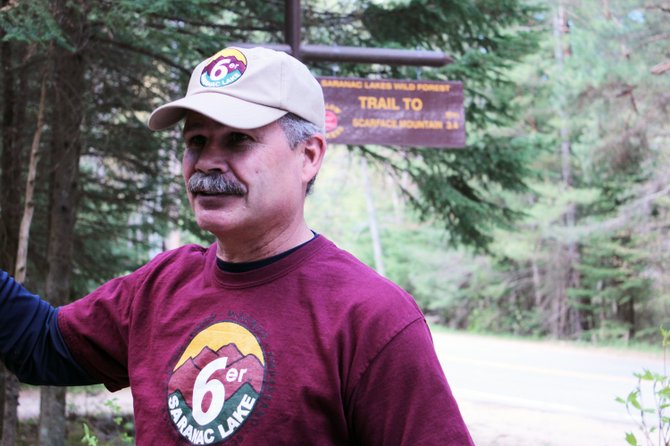 The Saranac Lake 6ers
McKenzie Mt.: 10.6 miles round trip, 3822 feet elevation
Ampersand Mt.: 5.4 miles round trip, 3353 feet elevation
Scarface Mt.: 6.8 miles round trip, 3054 feet elevation
St. Regis Mt.: 6.6 miles round trip, 2874 feet elevation
Haystack Mt.: 6.6 miles round trip, 2864 feet elevation
Baker Mt.: 1.8 miles round trip, 2452 feet elevation
Saranac Lake — If there's 46 things the Adirondack High Peaks are known for, it's mountains.
And those mountains are quite a draw for tourists.
The quest to become an Adirondack 46er, an elite title bestowed upon those who manage to reach the summit of each of the region's 46 highest mountains, brings thousands of adventure seekers to the area every year.
But Saranac Lake Mayor Clyde Rabideau wants the world to know that his village, on the fringe of the High Peaks region, has mountains, too.
So the village designated six mountains, all within 15 miles of Saranac Lake, as "6ers."
"With this program, we've started to introduce our village to the hiking and climbing community within the Adirondacks," Rabideau said. "This is a way to introduce Saranac Lake and our beautiful mountains to that community, from Montreal and further north to New York City and beyond."
The mountains—McKenzie, Ampersand, Scarface, St. Regis, Haystack and Baker—are all smaller than their High Peak counterparts, and a determined hiker can complete all six in one day.
A map, created for the program as a donation by the Adirondack Park Agency, provides directions to each trailhead and information on each mountain.
To drum up excitement, and to discover who will officially become the first Saranac Lake 6er, a kick-off event will be held Saturday, May 25 at Berkeley Green in downtown Saranac Lake.
Hikers can begin registering for the competition at 7 a.m., and the official start time is 8 a.m.
(Continued on Next Page)
Prev Next
Vote on this Story by clicking on the Icon