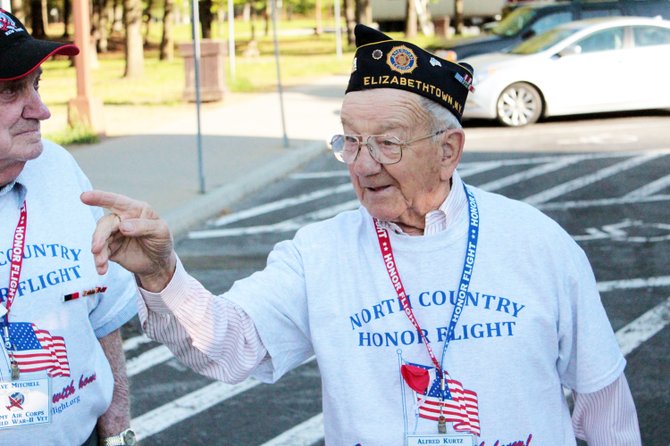 continued — His silence was borne of appreciation.
"This is really something," he said. "I feel honored."
Each veteran exited the bus with his guardian, and each pair was met with a wave of enthusiasm and, as Thompson had indicated, appreciation.
They were treated like movie stars walking down the red carpet or, more appropriately, they were treated like heroes who sacrificed their lives for the safety of others.
Thompson's guardian, Plattsburgh State student Yohanna Mueller, was also moved by the turnout.
"The fact that we're honoring veterans in such a way shows me that Americans still care," Mueller said. "It's not political, it's not about money or about what's right or wrong. It's just about what people want to do personally."
In Albany, the North Country Honor Flight veterans were joined by the Leatherstocking Honor Flight of Cobbleskill, NY.
Together, the two groups brought about 55 veterans to Washington D.C.
But before they boarded the plane, they were treated to a short send-off ceremony that included a live Army band and several speeches.
"It's heartwarming to know that so many people stll care," said North Country Honor Flight Guardian Coordinator Kimberly Bouissey as she fought back tears. "These veterans haven't been forgotten."
For a video of the May 18 honor flight visit: http://www.youtube.com/watch?v=dgUTWIOs8XQ
Vote on this Story by clicking on the Icon