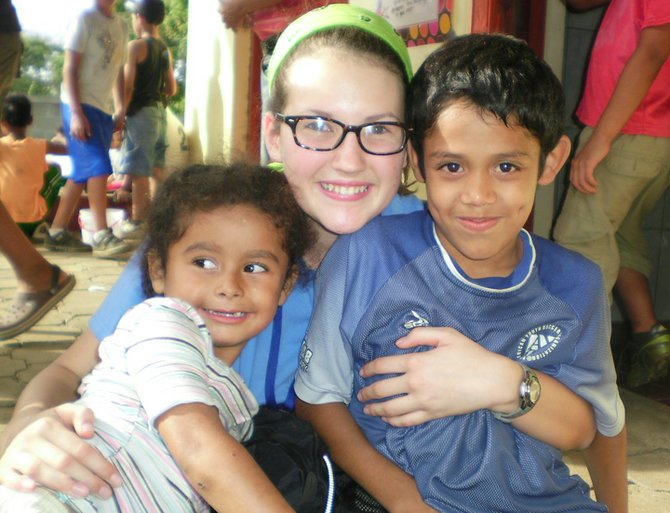 continued — Whitney considered asking for donations to support her lunch program, but decided to hold a race.
"I chose to hold a race rather than just ask for donations mostly because of the action it takes," Whitney explained. "Mission of Hope is all about action. Sister Debbie (Blow, Mission of Hope director) always reminds us that 'our mission truly starts when we get home.' We all need to do what we can and getting up in the morning to push your body to run 5 kilometers for a great cause is a lot more satisfying than just handing someone 20 bucks.
"Also, Mission of Hope's slogan has always been 'corazones y manos' which translates from Spanish to 'hearts and hands' to show that we care and we take action," she added. "For the run, I have come up with the slogan 'corazones y pies,' which means 'hearts and feet' to symbolize the reason why we are running."
A spiritually-based humanitarian organization, the North Country Mission of Hope is committed to fostering hope and empowering relationships with the people of Nicaragua through sustainable programs in education, health care, community and ecological development. It began in 1998 by responding to the devastating effects of Hurricane Mitch on the impoverished villages of Nicaragua.
The North Country Mission of Hope is successful, Whitney said, because of the support it receives from Adirondack residents.
"Mission of Hope is so incredibly thankful for the people in the North Country for all of their support," Whitney said. "We realize that, especially in today's economy, there are people who suffer from hunger even here in the United States. However, we are fortunate enough to have numerous programs and organizations that are dedicated to help our people, like the Salvation Army and food pantries.
"In Nicaragua, they rely on people like you and me to help mitigate their hunger, their pain," she added. "It's difficult sometimes to remind ourselves that we don't really need the new iPhone, or that a bad grade on a math test isn't the end of the world. But when we remember what is really important, we can open our hearts with generosity and make an unimaginable difference in the lives of people all around the world."
Vote on this Story by clicking on the Icon