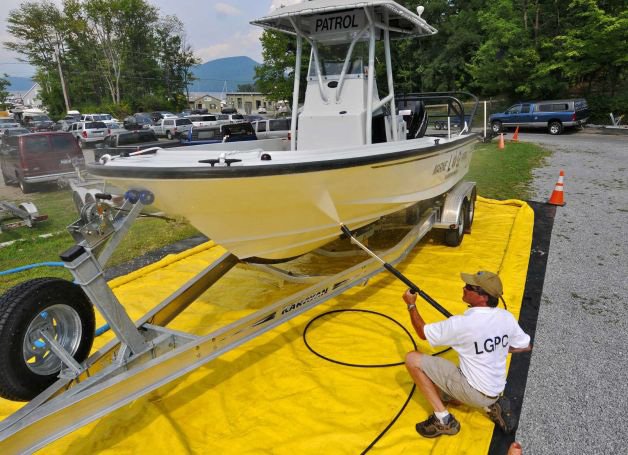 continued — The five inspection and decontamination stations are expected to cost $61,000 each to establish. Once those stations are in place, the program is expected to cost $677,000 a year to operate.
Dean Cook of Ticonderoga, a LGPC commissioner, said it's still uncertain how the program will be funded. He said the Lake George Park Commission will seek money from the state, which owns the lake. He also noted communities surrounding the lake may be asked to contribute. Increased boat registration fees are also likely to help pay for the program.
Lake George Association Executive Director Walt Lender of Ticonderoga urged people to learn about the proposed plan.
"The LGA has been working closely with the LGPC on this plan as it has been under development for over a year now, participating in many public meetings and assisting the process by sharing data and information that the LGA's award winning Lake Steward Program has collected over the last five years," Lender said. "We were very pleased when it was approved unanimously by the LGPC commissioners at the April 23 monthly meeting. Preventing the introduction of more AIS (aquatic invasive species) into Lake George is vital to protecting the lake. And while our Lake Steward Program has had many 'saves' over the years and recently was recognized at the national level for its success, the LGPC has the authority to put stronger protections into place to protect the Lake from new AIS introductions.
"We encourage all of our members to take a look at the plan and to attend a public hearing," Lender said. "If you can't attend a hearing, there is still the opportunity to be involved in the process by submitting written comments."
While the inspection and decontamination plan is probably a year away, the Lake George Park Commission and state Department of Environmental Conservation have agreed to step up efforts this summer to prevent the spread of invasive species in Lake George. The agencies will:
Vote on this Story by clicking on the Icon