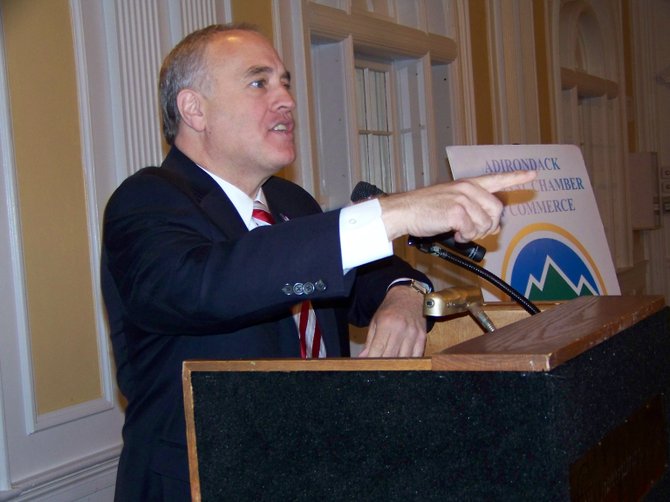 continued — To make his point, DiNapoli hauled out three giant checks to local entities reflecting their balances existing now in his office's Unclaimed Funds depository.
He presented a check of $200 to the Adirondack Regional Chamber of Commerce represented by Peter Aust, ARCC President; $651.83 to the Glens Falls National Bank represented by its president, Thomas Murphy, and $532 to the City of Glens Falls — with Sen. Little accepting the check.
Later, Queensbury Supervisor Ron Montesi asked DiNapoli about whether his office tracked how much state Lottery revenue actually bankrolled public education, its original stated purpose.
Answering for DiNapoli, Sen. Little said that sum was $3.4 billion for 2012.
DiNapoli said that state Lottery revenue was deposited in the state General Fund, out of which state Aid for education was drawn.
"It's an accounting mechanism," he said.
DiNapoli was also asked if a dollar value had been calculated reflecting the actual benefits stemming from the tax breaks and incentives awarded Global Foundries.
"I can't give you hard numbers, but economic development experts saw it as a great opportunity," he said about the multi-billion chip-fabrication development based in Malta, and the spin-off high technology industries attracted to the Capital Region. "Their objectives are now being fulfilled in a positive way."
After DiNapoli's 90-minute presentation, Warren County Board of Supervisors Chairman Kevin Geraghty praised the state Comptroller for his outreach to Warren County.
"DiNapoli is an effective advocate for local communities, and showing up here is a good thing for the region," Geraghty said.
State Assemblyman Dan Stec of Queensbury said he supported DiNapoli's commitment to reinvesting pension fund cash into in-state businesses.
"Investing in New York businesses benefits the state's economy and creates jobs," he said, adding that any area business with a qualifying need should contact him or Sen. Little as well as DiNapoli for potential assistance. "It's a great idea and a win-win situation."
Vote on this Story by clicking on the Icon