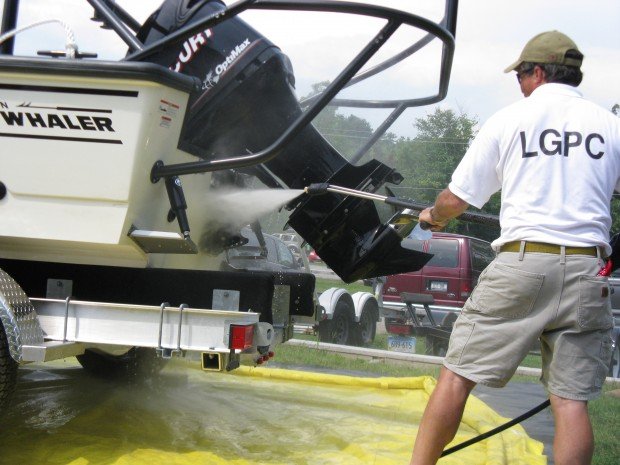 continued — After hearing from marina owners and others that there was insufficient room to host a washing station at the boat launches on the two lakes, the Horicon board endorsed the idea to boost the hours of their lake stewards, an action taken officially by the Chester town board a day later. In Chester, stewards will be on duty from 6 a.m. to 6 p.m. Fridays, Saturdays Sundays through the boating season. The board also authorized Monroe to hire another steward to be on duty from 6 a.m. to 2 p.m. Monday, Tuesday and Wednesday.
Monroe said town officials would be working with consultants to review the possibility of a boat certification system that would call for boats to have inspectors affix seals on cables holding boats to trailers, certifying them as environmentally safe to launch. The seals could be color-coded, indicating which waterway they were pulled from, Monroe said, to allow re-introduction to the same water body without re-certification.
The entire program would be voluntary, but local officials expect that most all boaters would comply.
At the Chester meeting Tuesday, Jane Smith said that the town should determine whether a water quality grant application that the town had submitted to the state could be amended to request funding for an additional boat washing station — and Monroe said he'd look into the possibility.
The additional station would likely be used by both Chester and horicon, and be made available to other towns, Monroe said.
In an update to the Chester board on a parallel effort to combat invasives, Monroe reported that the chemical Renovate was applied Tuesday in the south end of Loon Lake to combat Eurasian Milfoil — after months of delays in permitting from state agencies.
He said the lake level had been decreased and a curtain was in place to minimize the spread of the chemical and maximize its destruction of the pernicious lakeweed. Monroe continued that the chemical was used at its lowest feasible concentration.
Vote on this Story by clicking on the Icon