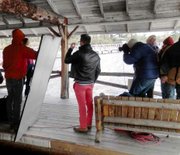 It certainly has been an interesting week to be in the woods. I spent a few days fishing, on both the ponds and the rivers and the remainder of my time was devoted to arranging details for an LL Bean photo shoot.
The Bean photo shoot crew encountered an interesting mix of Adirondack weather patterns. There was brilliant sunshine, calm waters and 75 degree temperatures on one day, and the next day delivered raging winds, horizontal snow and whitecaps that were so heavy the crew was almost washed off the docks.
The group's photographer, who hails from California, claimed he had suffered through a four season's worth of extreme weather in less than a week's time. And then there were the black flies!
"Nobody warned us about the black flies," he complained. "We wore these silly nets which only served to trap them closer to your scalp. One bite and you'd bleed forever, and it would itch like crazy."
"And then there was the weather!" he sighed. "We had a year's worth of extremes in just seven days, with sun and heat one day followed by horizontal rain and 20 degrees the next."
"I've never seen anything like it. It went from summer to winter in less than 24 hours! I was watching this storm come across the lake, and it looked like rain. But then I saw it was snow, and then, the whole place went white instantly. I was not happy."
"Welcome to the Adirondacks," I offered, "a land of extremes."
Despite a wealth of welts, plenty of frozen fingers and a mess of wind tossed hair, the crew actually managed to make it through the entire week, all alive and frostbite free, and they got enough good shots to produce their entire fall catalog.
Even though there were propane heaters blowing hot air on the set the whole time, hair stylists were reduced to using blow dryers to keep their fingers nimble.
Joe Hackett is a guide and sportsman residing in Ray Brook. Contact him at brookside18@adelphia.net.
(Continued on Next Page)
Prev Next
Vote on this Story by clicking on the Icon