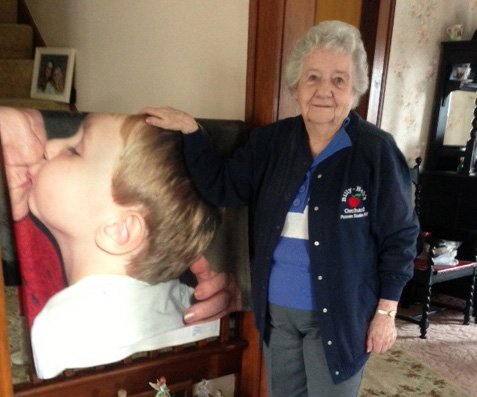 Ticonderoga — Belva Blood will celebrate her 90th birthday May 31, but the Ticonderoga woman isn't about to concede to age.
"The best thing about turning 90 is that I'm still able to do pretty much everything," Belva said. " I mow my own lawn, drive. I can even run up and down stairs."
She also enjoys baking pies and donuts. She spends a lot of time going to church and helping there. She recently started bowling with a church group.
Belva is the fifth of six children. Her four older brothers are deceased, but her younger sister Myrtle — age 87 — is alive. Her husband, Dan, died at age 62.
Belva has three children — Bonnie, Bill and Betsy — and eight grandchildren and eight great-grandchildren.
Other than childbirth, Belva has never been in a hospital and boasts of perfect health.
"The worst thing is wondering how many more decades can you go on, but there's nothing really bad about living so long," she said. "Sometimes I forget names, but I'll remember them five minutes later. That's more to do with having so many memories; I'm filled up with memories."
Her future plans are to keep living each day and continuing the things she loves.
Belva worked 35 seasons at Fort Ticonderoga, working until she was 87 years old. She had several different jobs that the fort, one of them cooking for Mr. & Mrs. Pell at the pavilion.
"They were really nice people," Belva recalled.
Belva grew up in Hartford, N.Y., and Orwell, Vt. She eventually attended Ticonderoga High School while living in Orwell, rowing a boat across Lake Champlain to get to and from classes.
She met her husband, Dan Blood, in Ticonderoga. They married during World War II, which started while she was finishing school. Bonnie was born during the war while Dan was in the military. When he got out of the service he became a mason and the family settled in Ticonderoga. In 1947 they bought the house where Belva still lives to this day.
Vote on this Story by clicking on the Icon