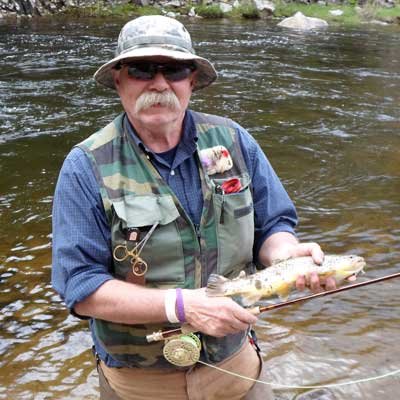 The Hendrickson (Ephemerella) hatch should be starting later this week. Not being one to wait, I tried my luck at a nice pool. Initially I started with a red bodied bead head nymph and started dredging the pool. I took a 9-inch brook trout (Salvelinus fontinalis) on that.
After an hour or so, around 3 p.m., and after trying a few flies that I thought would bring a strike, I changed tactics. No fish were rising and taking dries, but I like to throw a curve ball out once in a while and see what happens. The way I figure it, if a steak sandwich with gravy and mashed potatoes floats by, why bother with bologna. The fish took the dry fly as it was swept downstream and started to swing. By that time the dry was getting wet, so the fish may have thought it was a mayfly starting to emerge from its nymphal shuck.
I caught the fish, a beautiful 14-inch brown trout (Salmo trutta). The trout took one of my hand-tied dry flies; my own creation. I carefully released it after we both posed for a photo op of course.
While I was fishing I met three guys from Calgary Canada who were staying in Lake Placid for a veterinary medicine conference. They rented some waders and tackle from Tom Conway at the Two Fly Shop in Wilmington. They had an assortment of flies and were out whipping the water. One fellow never fly fished before so I worked with him, gave him a couple of my special home grown flies and let him whip away. He was the one who took the photo of me with the fish. Fly fishing folks swap or share flies with other fly guys. Worm guys don't.
Being from the flat prairie country of Canada, they were impressed with the beauty of the Adirondacks. I was up in the Canadian prairies so I know what the terrain is like. Canadian wheat and flat paprika colored plains. There are miles and miles of flat, to gently rolling wheat fields and prairie. Prairie is French for grassland. Those fly fishing prairie guys hope to return to our mountains someday.
Rich Redman is a retired District Conservationist for the USDA Natural Resources Conservation Service and an avid outdoorsman. His column will appear regularly. He may be reached at rangeric@nycap.rr.com.
Vote on this Story by clicking on the Icon