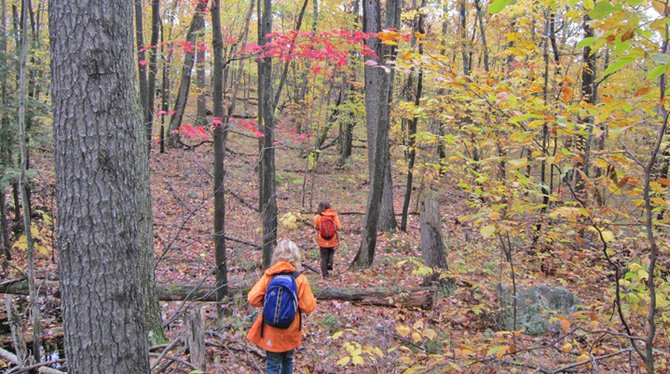 Mineville — The second annual Mineville Iron Ore Man Challenge hopes to build on last year's success while attracting attention to the community's newest hiking trail.
Sponsored by the Moriah Chamber of Commerce, the event is a hike up the Cheney Mountain Trail Saturday, June 1. Registration will be 8:45 a.m. at the trail head on Pelfershire Road, 1.4 miles east of Route 22/9N. Registration is $5. The hike will begin at 9 a.m.
"Last year we had 45 people turn out in the pouring rain," Tim Garrison of the chamber said. "We had a lot of fun. It was great."
The first 80 people will receive a 2013 hiking patch.
The Cheney Mountain Trail opened in the fall of 2011 and has become a popular hiking trail. Garrison said more than 750 people from across the United States and from three countries have registered at the base of the trail. He estimates more than 1,500 people have used it.
The trail is about two miles round-trip with a moderately-easy climb to the summit.
Champlain Area Trails volunteers constructed the Cheney Mountain Trail on town property that was once site of a landfill.
"The trail was built on unused town property with help from CATS, local community volunteers and a forward thinking town board," said Garrison, who also serves on the town board. "Projects like this continue to assist in the rebuilding of our local economy and community."
Champlain Area Trails is a non-profit organization whose purpose is to develop hiking/skiing trails that link Champlain Valley communities, connect people to nature, promote economic vitality, and protect habitat and scenic vistas. For more information, go to www.champlainareatrails.com
"Champlain Area Trails is creating trails that link New York's Champlain Valley communities," said Chris Maron, executive director of CATS. "The Cheney Mountain Trail begins the network of trails that will connect Port Henry to Westport and the trails leading to Essex, Willsboro, and Elizabethtown. These trails will bring connect people to nature and promote economic vitality as people come to the Champlain Valley to hike, ski, and bike from hamlet to hamlet and use local businesses."
Vote on this Story by clicking on the Icon