CHESTERTOWN — A woman who has dual high-profile roles in northern Warren County was lauded this week by leaders of the local communities she serves.
Joanne Ellsworth, proprietor of Creative Opportunity preschool, and commander of American Legion Post 964 in Chestertown, has been named V.I.P. of the Year by the North Warren Chamber of Commerce. She will be honored Friday May 17 at the Chamber's annual awards banquet.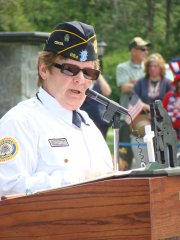 Ellsworth has not only instilled values of citizenship in the local youth, but as Legion commander for the last eight years, she's inspired patriotism in adults and boosted community spirit in the region, local officials said this week.
Town of Chester Supervisor Fred Monroe said May 7 that Ellsworth has played a key role in accomplishing many of the Legion's recent projects.
"Joanne has been a real spark plug in the American Legion," he said, noting she had been involved in establishing the new Chestertown Veterans Memorial Plaza, and had helped coordinate various upgrades to the neighboring Legion Post — both sources of community pride.
American Legion 2nd Vice Commander Joe Slattery praised Ellsworth for her role in presiding over local holiday ceremonies including the joint Chestertown-Brant Lake Memorial Day services — as well as her work on the Legion's various projects and activities.
"Joanne's a very good organizer and an eloquent speaker," Slattery said.
Monroe noted that Ellsworth had nurtured two generations of preschoolers, sparking a love of learning as well as building their character.
He and others have observed that many of her pre-school graduates from many years ago have grown up and are now making valuable contributions to the community as well as society as a whole.
Ellsworth, however, deferred credit to others.
"I appreciate the honor, but this award is really about the community, not about a V.I.P.," she said. "I do enjoy getting kids interested in the world around them — and I really appreciate the community's support."
(Continued on Next Page)
Prev Next
Vote on this Story by clicking on the Icon