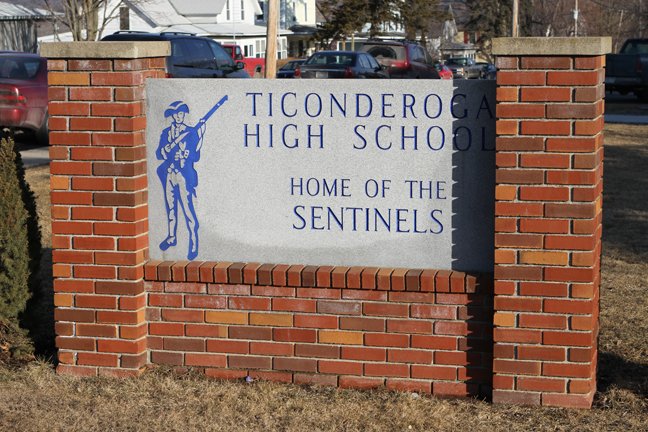 continued — McDonald pointed out that's more than a 25 percent reduction in teaching staff. During that same period enrollment has declined 15 percent.
"We'll have to be creative and work harder," McDonald said of the smaller staff. "Fortunately, we have a good history of doing just that."
The proposed budget also calls for $15,000 to be cut from athletics and extracurricular programs. McDonald said specific cuts will be determined after the district does an analysis of participation and competitive opportunities.
Limits placed on the district by the state tax cap allow a local tax levy of $10,706,316. That's an increase of $389,584 from the present tax levy. But while Ti is limited to a $389,584 tax increase, costs out of the district's control have soared. Retirement costs for district employees are up $460,000 and employee health insurance is up $150,000 in 2013-14. Also expected to increase are fuel, heating, utility and other costs.
Also, after three years of concessions, Ticonderoga teachers will return to their contractual salary schedule and receive a 2.8 percent pay increase.
McDonald said Ti teachers have been leaders in sacrificing for the good of the district. Teachers have made wage concessions the past three years totaling more than $1 million. He said Ti teachers are the only ones in the state to make concessions three consecutive years.
Non-instructional workers, who also made concessions last year, will get 3 percent pay increases in 2013-14.
"We will meet all our contractual obligations," McDonald said.
The reason for Ticonderoga's financial difficulties is simple, the superintendent said.
"We played by the rules," McDonald said. "We never exceeded the 4 percent fund balance prescribed by the (state) comptroller. As a result we don't have the reserves that other districts built up. Basically, we're being punished for playing by the rules."
McDonald believes Ticonderoga is turning a corner this year financially and future budgets will be less harsh.
Vote on this Story by clicking on the Icon