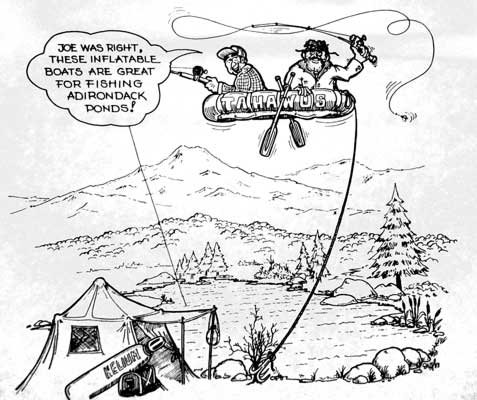 Years later, as I was busy pumping up a raft while atop a small summit, I was surprised by a group from a Japanese hiking club.

Since there was no apparent water, from their vantage point atop the rocky knoll; they were obviously very curious to learn what I was up to.
One fellow asked rather sheepishly, "What are your doing?"
"Going fishing," I replied.
"Where?" he remarked.
"Why, down there, of course." I explained, pointing to a small pond located nearly a mile below the ledge.
"How do you get there?" was his next line.
"Helium," I answered. "I pump it into the raft."
"Can we watch?" he asked excitedly, as the group began moving to the edge of the cliff for a better view.
"Sure," I offered, "Just stay right there."
With their backs to me, I promptly shouldered the raft and set off down the trail. They didn't even notice. They sat there staring down at the pond below, as if expecting me to make an entrance at any moment.
Minutes had passed before they followed me down the trail to a nearby pond. When the got there, I was already in the raft, landing a fish.
"Aren't you going to fly?" asked one of the younger hikers.
"No," I replied, "The fishing is too good right here."
Then he mumbled something, pointed at me and they all burst into laughter, "Crazy American!"

I agreed.
Joe Hackett is a guide and sportsman residing in Ray Brook. Contact him at brookside18@adelphia.net.
Vote on this Story by clicking on the Icon
More like this story