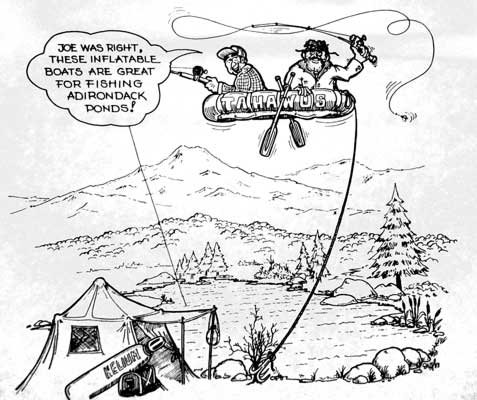 Adirondackers have again begun practicing that old, familiar wave. It's not really due to the fact everyone in the region is a happy sort. Rather, it means they've already begun swatting away the black flies, as a last resort.
Fortunately the flies have been a bit slow to bite so far, however I expect they'll have their teeth into fresh flesh within a few days.
Headnets or bug dope will soon be in great demand, as wave after wave of cursing and cussing Adirondackers begin to wage a battle against the usual spring plague.
For those brave souls who disdain either the wave or a headnet, there is still hope. I recently discovered a newly minted supply of the best bug dope elixir to be found. It may soon be available at an outdoor shop near you.
I found my little, green bottle of "Ol Woodsman Fly Dope" at The Mountaineer in Keene Valley. Vinnie McClelland, the store's proprietor explained the dope's manufacturer had just released a fresh batch.
With just one whiff, I knew it was true. That stuff will keep away everything and anything that bothers your, whether it is bugs, small children, in-laws or even the law.
I know of one fellow who was picked up by the troopers for hitchhiking. After being told to get in the troop car, he applied a bit of dope to his ears. The cops promptly tossed him back on the street, as there was no need to have that vile stink in the car!
During the Adirondack spring, there are few viable options for bug protection. It's sink or swim, stink or itch, or just keep on swatting.
"Look Marvin, those friendly Adirondack folks are waving goodbye, again!"
"Those rascalous, scoundrely, guides."
Many have claimed that you can only believe about half the tales an Adirondack guide tells you, which is almost true.
Joe Hackett is a guide and sportsman residing in Ray Brook. Contact him at brookside18@adelphia.net.
(Continued on Next Page)
Prev Next
Vote on this Story by clicking on the Icon