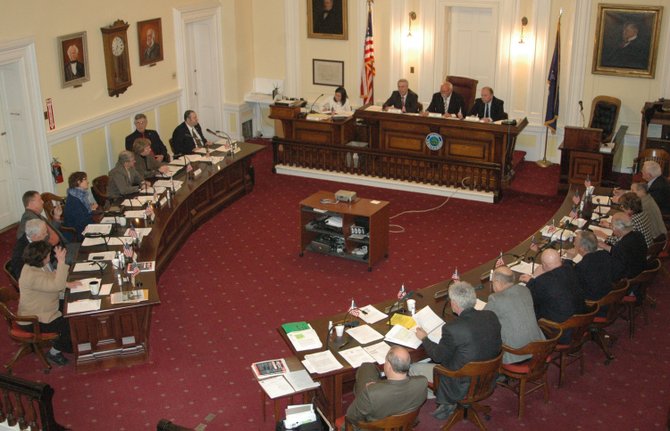 Elizabethtown — While there was little opposition to changing the rules for alcohol sales during the Essex County Board of Supervisors meeting May 6, most of the discussion focused on a change to when it could be sold on a specific day.
The Board of Supervisors passed a resolution that calls for the cutting back of hours bars and other establishments can serve alcoholic beverages from 4 a.m. until 3 a.m., with only Newcomb Supervisor George Canon voting against the measure (Minerva's Sue Montgomery Corey and Westport's Dan Connell were absent).
Along with the hours, the board also did away with the prohibition of alcohol sales in stores between the hours of 1 and 3 p.m. on Good Friday.
"Nobody ever knew that they could not sell liquor in their stores from 1 to 3 p.m. on Good Friday, so why keep something in the books when it is not being enforced?" Chesterfield Supervisor Gerald Morrow said.
"I had forgotten about this, but I remembered that we did close for those hours when I was a kid and my parents ran a business where alcohol was served," Jay Supervisor and board chairman Randy Douglas said. "We would shut down during those hours."
Some supervisors questioned if there should be a law concerning alcohol sales based on a religious holiday.
"I was surprised to hear that there was a law that was enforced with Good Friday," Elizabethtown Supervisor Margaret Bartley said. "I think that we should stay out of that. A religion law is something that is personal."
"I think you are walking on a thin line when it comes to regulating sales for a religious purpose," Moriah Supervisor Tom Scozzafava said.
Schroon Supervisor Michael Marnell said he felt that if there was a law on the books regarding sales on Good Friday, there should also be one regarding Christmas Eve.
(Continued on Next Page)
Prev Next
Vote on this Story by clicking on the Icon