Roberts also said that the kids come together quickly as peers.
"It can be a little intimidating at first but after a couple of hours, they all feel so comfortable around each other," she said. "They are all children who are interested in furthering their education and having new experiences."
The Exchange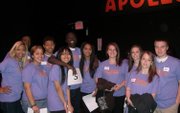 The following week, for students from Willsboro, including Bridge, traveled to New York City to be with students there.
While the students did not get to go to classes with their peers, they were able to see how the students got around, where they lived and attend a leadership conference and the famed Apollo Theater.
"It took me out of my comfort zone," sophomore Kanesa Kohen said. "I like the city and actually getting a chance to see how they live every day. I knew that it was a big city, but there were some parts that did not seem that big."
"It was a lot of fun to see what it is like to live in the city," sophomore Kelsey Sloper said. "You can walk everywhere because everything is right next to them. There is no trip to Plattsburgh. You take the subway to school."
Senior Tiffani Tromblee said that there were several differences that her peers told her about between the two schools, including one that she had not thought about.
"They said that our school lunches were a lot better here," she said. "You always hear kids talk about school food, and that was kind of eye-opening."
"Experiencing their life is a lot different," Bridge said. "I had been there with my parents before but seeing it for myself and having the independence of seeing the city with other teens was nice."
Bridge said that he first thought the experience would be a little intimidating, but was soon able to settle in with his fellow students from the city.
Vote on this Story by clicking on the Icon