It was an exchange of the big city lights to the Adirondack Park.
Students from the Wadleigh Secondary School and Frederick Douglass Academy II in Harlem spent three days with students from Willsboro Central School, part of a College For Every Student (CFES) exchange program between the two districts.
This week, students from Willsboro will travel to Harlem to experience life at the Wadleigh School, while their peers got the chance to experience life in the halls of Willsboro April 18-19.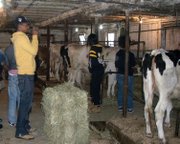 "Our classes are way bigger — our gymnasium is bigger — it is definitely different from the city," Wadleigh senior Isaiah Rowe said. "I have one class that is just one section of the class that has 32 students in it."
Rowe said that he wanted to see something that was different from the high school experience that he had so far.
"I especially wanted to get an experience that was outside of the city," he said.
"It is fun to see them on the farm, because it can be a big shock," Willsboro student Tyler Bridge said. "They are a different group of people that have come into the school, but after we get to know each other it becomes fun and lively, just like we had been classmates for a while."
Bridge said that he was looking forward to the visit to Harlem and getting the chance to see a larger school.
"They will see a big difference in any class they go to," Rowe said. "I think that they will also get a fun experience when they have to travel on the subway to and from school."
Delores Roberts, CFES Liaison at Wadleigh Secondary School, said the experience is important for the students.
"It is a matter of coming from the environment that you live in and to be exposed to things that they would not ordinarily get," Roberts said. "There is a lot from this that they can use in their personal databases, and adding to your database allows you to fit into different places and circumstances."
(Continued on Next Page)
Prev Next
Vote on this Story by clicking on the Icon