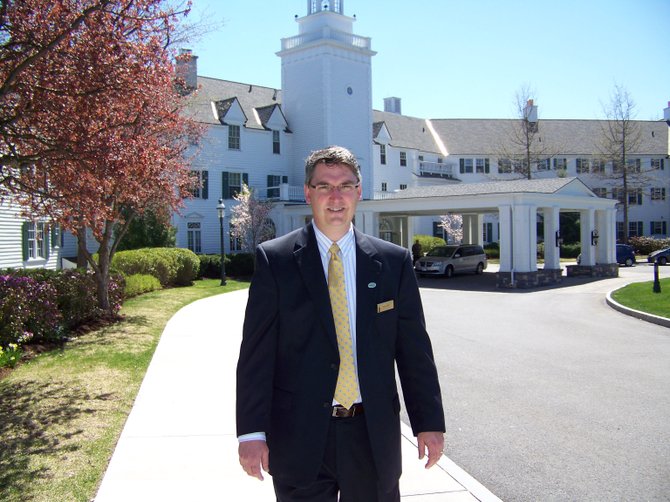 continued — "This is wonderful news for the entire Lake George region, Stec said. "Undoubtedly the Sagamore's employees welcome this news, but also it speaks to the health of the economy in the entire Lake George area. This is fabulous."
Lake George Chamber of Commerce president Michael Consuelo offered his thoughts.
"This will draw more attention to our region as a year-round destination," he said, noting that Bolton businesses will now be able to stay open off-season, boosting their prosperity.
Guay made the announcement minutes before he conducted a tour of the most recent changes at the resort.
Improvements this year include refurbishing the Lodge suites and rooms, renovating the Sagamore Conference Center and reconstructing the Spa and Salon.
The conference center now features a new color scheme, new multi-colored stone slate flooring, distinctive carpeting, chandeliers and furnishings — including lobby tables with massive rustic burl supports. Also, two new well-appointed executive board rooms a have been constructed.
The Lodge suites and rooms have been modernized with all-new stainless steel appliances, new cabinets and built-ins, as well as a makeover with "Adirondack-chic" decor.
The reconstruction of the spa and salon includes a new array of 14 spa treatment rooms, 11 massage rooms, and new hair styling, pedicure and manicure stations — four each — and a lounge where guests can relax and socialize, as well as new rest room facilities The spa's lobby features a sweeping installation of blonde hardwood and glass as well as soft lighting and contemporary fixtures.
After touring the resort to see all the upgrades, Conover said he was impressed.
"The owners have made a tremendous investment in their facilities and we're thrilled — this means so much to the whole community," Conover said.
Guay declined to say how much these most recent upgrades cost.
Conover noted that the hotels and inns in the town of Bolton generates a full 25 percent of Warren County's income from accommodations, and the Sagamore now being open year-round with its new upgrades is likely to have a big impact on the county's revenue — through sales and occupancy tax.
He also said that the resort's local suppliers, as well as shops and businesses in the region would also benefit from the Sagamore's changes.
"Lake George is considered the Queen of American Lakes, and The Sagamore is the jewel of the queen's crown," he said.
The Sagamore, considered a national landmark and offering elegant accommodations for more than 100 years, is listed on the National Register of Historic Places.
CHECK BACK FOR UPDATES TO ARTICLE.
Vote on this Story by clicking on the Icon