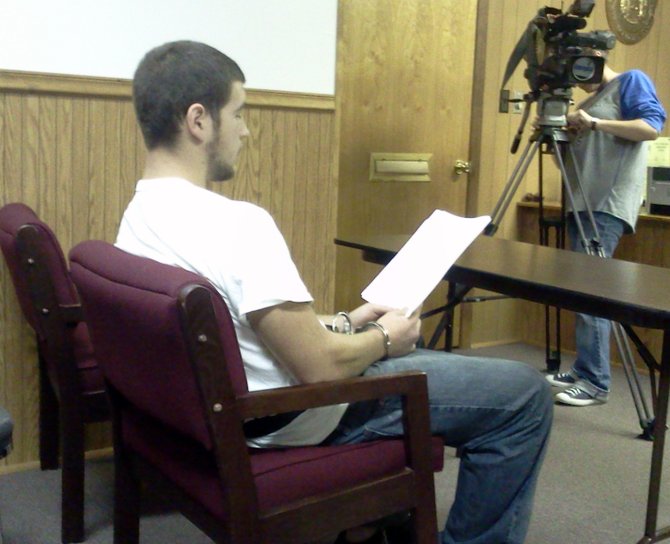 continued — Levison said he interviewed Denno three times following the first interview and at each point his story of the events on Aug. 26 changed.
After giving the first statement, Denno was read his Maranda Rights, because Levison said he suspected Denno was lying about his whereabouts that night and that from there it would be safer to advise Denno of his rights. The statement was objected by the attorney for the defense and taken from the record.
During the initial interviews Levison questioned a cut under Denno's eye which he explained happened from an ATV accident in the seventh grade and damage was noticed from Denno's knuckles which he explained happened when he worked on a farm and, "punched a cow and the knuckle stayed like that."
The boots Denno had worn during interrogation also were later proved to be the same boots that Denno used to kick Rennie.

Levison said Denno's story changed after officers informed him that Rivers and Brandon had given more information about Taylor being at the house that night and that they had driven him home. The new information led to more questions about what else Denno had left out.
He told the court that sometimes Samantha LaCroix, a former girlfriend of Taylor and Rennie, was also living with Taylor. Denno said Taylor had sent a text message saying he was waiting for police because he had punched Rennie. At the time of his death, there was an order of protection against Rennie to stay away from LaCroix and Taylor believed the cops were on their way to the residence.
On Sept. 11, 2012, Levison brought Denno back to Plattsburgh for more questioning, where his story changed again.
Denno said he and Rivers saw Rennie walking and Rivers tapped Rennie on the shoulder and the two began exchanging profanities and Rennie initiated a fight which Denno joined into. Denno said Rennie tried to leave while the group stood out of Bezio's Auto & Marine but Rivers said he couldn't.
Vote on this Story by clicking on the Icon