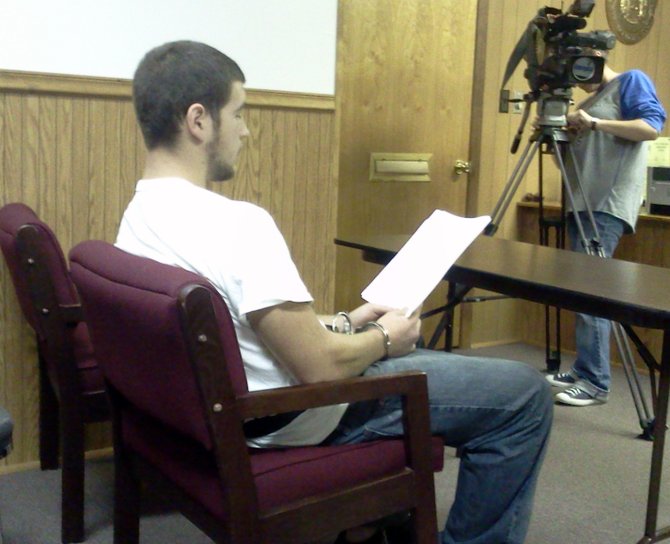 Elizabethtown — Investigating officers who questioned Scott E. Denno revealed during the second day of trial that he changed his story many times over the course of the investigation of his involvement in the death of Robert Rennie.
Denno, 19, along with Paul Taylor, 39; Michael Rivers, 36; all of Keeseville were each charged with gang assault first degree after investigations by the New York State Police and the Essex County District Attorney's office. Denno is also charged with manslaughter in the first degree and criminal posession of a weapon.
Day two of the murder trial commenced with interviews of investigating officers and replaying of interviews with Denno in the days following Rennie's death on Aug. 26, 2012.
New York State Investigator Thomas Houle took the stand first and examined the crime scene layouts submitted by the New York State Police following the investigation, noting the 763 feet of "red spots" that went down a straight line from Front Street in Keeseville to the closed bridge. Houle first called the red spots "pools of blood," but the description was struck from the court's record.
Bureau of Criminal Investigation Violent Crimes Unit Investigator Theodore J. Levison was the second witness called to the stand. Levinson said he first interviewed Denno on Aug. 28 outside of the police barracks in Plattsburgh. He said he was called to talk to someone who had come with Michael Rivers that day. Denno referred to Rivers and his wife Angela as "mom and dad" and had been living with the couple on Front Street for a week prior to the interview.
"I asked him to come in and give statement to what he'd done the night before," said Levison on the stand.
From there Levison said Denno had at no time asked for an attorney or was under arrest.
(Continued on Next Page)
Prev Next
Vote on this Story by clicking on the Icon