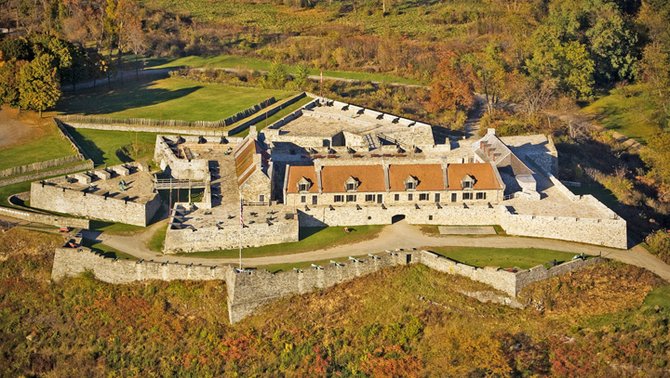 continued — A new recreation trail will also be unveiled. The interpretive trail winds around the Carillon Battlefield and offers guests an opportunity to explore.
There is also a new canoe rental program that will allow people to see the fort from Lake Champlain.
Also new in 2013 is a renewed emphasis on educational programing for children. Last year the fort reached about 13,000 students through its programs, Hill noted. This year she expects that number to reach 24,000. She also pointed out new programs for Girl Scouts and Boy Scouts at the fortress.
"That really hits at the heart of our mission," she said. "We want to reach as many people as possible, especially children. I'm very excited about out youth programs."
Fort Ticonderoga will still have its traditional living history weekends, events, exhibits, gardens and its corn maze. The King's Garden, one of North America's oldest gardens and the largest public garden in the Adirondack-Lake Champlain region, will open on May 25 and offer new programs for children and adults as well as daily tours.
Popular exhibits also remain. "The Art of War: Ticonderoga as Experienced through the Eyes of America's Great Artists" is again in the lower level of the Deborah Clarke Mars Education Center. "Bullets & Blades: The Weapons of America's Colonial Wars and Revolution" is on the second floor of the soldiers' barracks.

"Fort Ticonderoga is a family destination and a center of learning," Hill said. "A visit is an interactive, multi-disciplined experience. It's exploring the beautiful gardens, finding adventure in our events, marching with the fife and drum corps, and learning about a historic trade. It's a walk through the restored fort, a stroll overlooking Lake Champlain and the Green Mountains of Vermont, and an afternoon in our exhibit galleries exploring our premier collections."

There will also be several special events.
Vote on this Story by clicking on the Icon