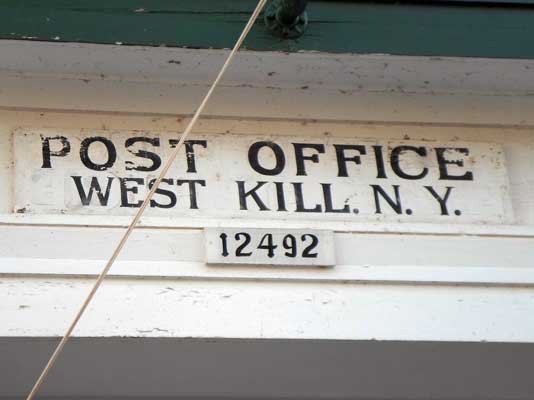 On my drive down I noticed numerous large hillside fields, laid out in strips. Strip cropping is alternating strips of an annual crop planted parallel to a perennial crop such as hay. The strips are laid out on the contour of the hillside. The goal is to reduce erosion by having a sod crop planted that stops the erosion action of the water running off the hillside. The steeper the field, the narrower the strip needs to be. Most of our fields in the Champlain Valley are fairly flat so there is little strip cropping done here, although I have laid out strips in Essex County and on the hillside farms of Washington County.
Cruising south on routes 30, then 145, and numerous others, I finally got to Prattsville and then to Lexington. The West Kill empties into the Schoharie River at Lexington. These are the home waters of Art Flick, the man who wrote the book, Streamside Guide.
In the fly fishing world, Art Flick is the Mickey Mantle with a fly rod, the best in his field. To fly fishing stream walkers, he is the guru of the Red Quill; a fly tied that imitates Ephemerella Subvaria; a mayfly.
Yes, were back on fly fishing again. Did we ever leave? The hatch of the mayfly is what a dry fly fisherman thrives on. Being on a river when there is a hatch coming off and fish are rising is a Van Gogh in my world! I got to visit and feel one of the places you read about and it was good. I saw the junction where the two rivers mate, and become one. I envisioned Art Flick with his black rimmed glasses and Joe Friday style brush cut casting a dry fly to one of the pools in the upper Schoharie. I breathed the air of the Catskills.
Rich Redman is a retired District Conservationist for the USDA Natural Resources Conservation Service and an avid outdoorsman. His column will appear regularly. He may be reached at rangeric@nycap.rr.com.
Vote on this Story by clicking on the Icon