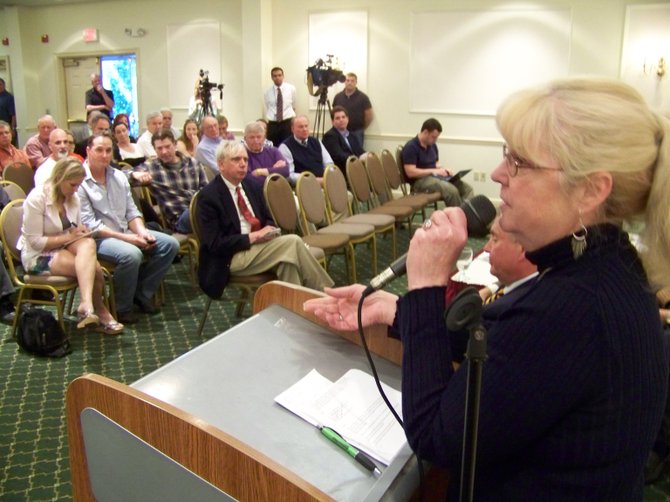 continued — "You are throwing around grandiose figures," she said. "Transforming Lake George from a family-friendly resort to a gambling destination is repugnant."
Criticizing Village Mayor Robert Blais and Town Supervisor Dennis Dickinson for their comments of apparent support for a casino published in the Lake George Mirror, Colomb offered some advice.
"The leaders of this community have to find out different ways to solve the problems of growth and economic success that is so needed — we are a different, quaint village that has a ton of history that could be parlayed into a strong future."
Lake George Steamboat Co. owner Bill Dow offered an opposing view, citing how hosting riverboat gambling in Mississippi gave thousands of people jobs, pulling them out of poverty, while providing vital support for local schools.
He criticized Warren County officials for not yet lobbying the state for a casino.
"Saratoga County leaders are behind hosting a casino 100 percent, but our county fellas have done zero," he said, noting that a casino in Saratoga Springs — considered a likely site — would offer no benefits for Warren County residents. "If we don't speak up for this, it is damn short-sighted of us."
Lake George store owner Patty Kirkpatrick also expressed support for a casino, in part because it would boost property values, which she said had been stagnant for longer than a decade.
"I strongly urge our county supervisors to get on the 'casino train' for the vitality of Lake George," she said.
SUNY Adirondack Business Professor Chandler Atkins also expressed support, noting it was a trend that Lake George residents shouldn't ignore. He observed that local youth were now moving away due to more prosperous career prospects elsewhere.
"We are exporting our students," he said. "But if we support this, our tourism industry could grow amazingly."
Vote on this Story by clicking on the Icon