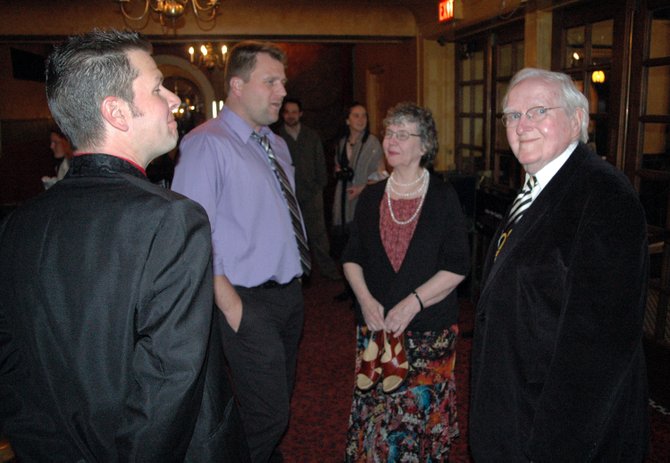 continued — "A lot of people said that something has to be done," said John Huttlinger, president of the Adirondack Film Society. "Sen. Betty Little called in the folks at ACNA to help coordinate this fundraising effort for these theaters."
Between showings of the trailer, people were asked to talk about their experiences going to the movies at their local theater.
"I grew up on Main Street right across from the Hollywood," said Jay Town Supervisor and Essex County Board Chairman Randy Douglas. "There are a lot of first dates and a lot of memories that come when you think about these local theaters. People also surround their evening going to the movies with dinner and other events that help out all of the local businesses that surround that theater."
"(The people in) my cabin on Silver Lake won a trip to come to Lake Placid and see Star Wars," said Aaron Woolf, who co-created the trailer for the campaign. "Going to the theater really is a community experience. Seeing a film is collective and we want the next generation in our North Country towns and villages to have that experience."
The trailer will play in the 10 theaters that are part of the campaign, said ANCA Communications Director Melissa Hart, who added that there will be a number of ways people can donate to the cause.
"There will be pledge cards at the theaters, envelopes to mail in pledges and there will also be bar codes that can be scanned by smart phones to make donations through," Hart said.
Fish added that people can either donate to a specific theater or to the overall campaign, which is also seeking corporate partners and donors along with help from state agencies.
"Empire State Development is looking to create some bridge loans for the theaters," she said.
For more information on the Go Digital or Go Dark campaign, visit the website adirondack.org/GoDigital, where you can also see the trailer created for the local theaters.
Vote on this Story by clicking on the Icon