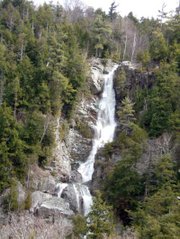 Most rivers and streams are still running high, with water connected by natural rhythms.


Although recent weather patterns been a bit less cooperative than expected based on recent years, it appears the spring is finally marching on.

I must admit that I have gotten used to enjoying the accelerated arrival of spring, which seems to have come along earlier every year. I guess I was spoiled last year, when the ponds were free of ice in time for the opening of trout season, on April 1.
In most years, the trout season doesn't even begin to heat up until the middle of May, usually on or about the Mothers Day weekend; but this year, it seems to be adhering to the norm.
Although a majority of the region's ponds have been ice free for nearly two weeks, water temperatures are still lingering in the 40's, and the fishing has been rather slow.
In this regard, the date on the calendar is never as reliable as the indications provided by the natural calendar.
What is likely the most obvious sign of good fishing, is evidence of blood trickling from behind an angler's ear, a sure indication that the black flies have sprouted teeth.
And there are plenty others signs, ranging from ferns still in the fiddlehead stage to witchhobble bushes beginning to sprout leaves that are about the size of a mouse's ears.
Most of these observations are based more on experience or coincidence rather than true science, and yet they tend to hold water.

Blackflies do not appear until water temperatures begin to warm, and when water temperatures are conducive to hatching out blackflies, they are usually producing a wide assortment of other fly hatches. And most anglers understand that trout like to eat flies.
As the local waters continue to warm, and the fish become more active, so too have the hatchery trucks. Although trout stocking has already begun, there are still many truckloads yet to be deposited in the local waters.
Joe Hackett is a guide and sportsman residing in Ray Brook. Contact him at brookside18@adelphia.net.
(Continued on Next Page)
Prev Next
Vote on this Story by clicking on the Icon