Lake Placid — Two officers stood next to the men's bathroom, weapons drawn.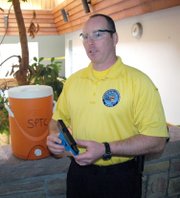 One slowly moved out around the corner, looking down the hallway for an active shooter. The other stood behind him, ready to move.
As one, the two officers moved from room to room, making sure each was clear. Eventually, they came upon a room with people, and the sound of gunfire erupted.
The sequence of events was part of two days of intensive training March 20-21 at a former office complex in Lake Placid held for local New York State Police, Sheriff's departments, municipal police and DEC law enforcement, among others.
"This has been in the planning stages for several months, and our major was very happy to host the training here," Lt. Patrick Ryan, Assistant Zone III Commander for NYSP Troop B in Lewis, said. "We were very fortunate to find a place like this to hold this very dynamic and focused training."
"The fact that they brought all of these resources up here for local departments was really great," Tupper Lake Police Officer Wesley Hoyt said. "I do not think that I have received training like this since I was in the service."
Ryan said that the active shooter training had been offered for the past three years, however, those interested in attending had to travel to Albany or further to participate.
"It is very realistic training that they are putting you through," DEC Capt. John Streiff said. "I would encourage any law enforcement officers to take this training."
Bob Stallman, Acting Director of Operations for the New York State Preparedness Center, a division of Homeland Security and Emergency Services, oversaw the training exercises.
"This is active shooter training for law enforcement dealing with situations that could take place in an office complex, school, movie theater or mall," Stallman said. "An active shooter scenario can really happen anywhere. The mind set of law enforcement has not changed on this, because police know that this can happen anywhere at anytime."
(Continued on Next Page)
Prev Next
Vote on this Story by clicking on the Icon