Ticonderoga — The naval history of upstate New York will be the topic of a program hosted by the Ticonderoga Historical Society.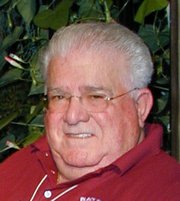 Robert Lamb, a society trustee, will present, "The Naval Lore of the Lakes - 1812 - 1814," in the downstairs program room at the Hancock House on Friday, April 5, at 7 p.m. It will feature a slide show.

The event is free to the public and light refreshments will be served.
"Mr. Lamb will offer another one of his fascinating naval programs," said Sandra Trepanier, a society trustee. "This time focusing on the resulting effects of the battles on Lake Erie and Lake Ontario in the War of 1812 upon New York State.
"Bob's presentation will include the activities of two principal senior naval officers and their commanding roles on the Great Lakes," she continued. "The United States was not prepared for this war. Mr. Lamb will discuss how Commodore Isaac Chauncey built his America squadron from an initial command ship, the Oneida, to several fighting ships in less than a year. His presentation will also talk about the more widely recognized War of 1812 naval officer, Capt. Oliver H. Perry, and his activities aboard his flag ship the USS Niagara. It was upon this vessel that he flew a pendant with the dying words of his friend, James Lawrence, 'Don't give up the ship.' Lamb will discuss how the Battle of Lake Erie was won, although the war was lost."
The Hancock House, home to the Ticonderoga Historical Society, will unveil new exhibits this year.
"The Ticonderoga Historical Society is getting ready for spring with some new exhibits, one of which is a collection of ladies dresses and accessories that belonged very long ago to some of Ticonderoga's residents," Trepanier said. "When it is completed, people will want to stop by and see who was wearing what, way back when. It's sure to be a fun and interesting exhibit of local interest."
(Continued on Next Page)
Prev Next
Vote on this Story by clicking on the Icon