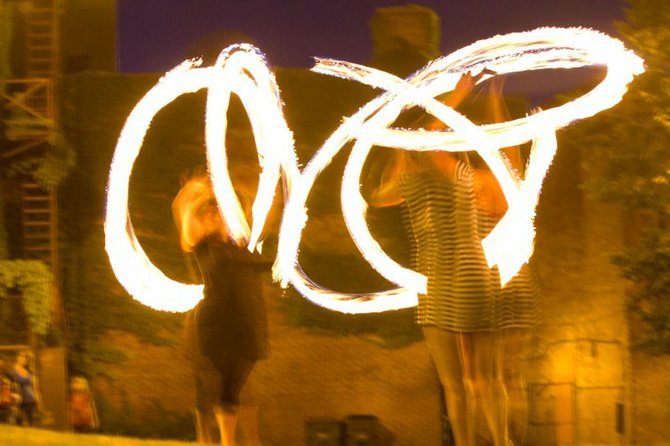 LeClaire has been involved in the art of movement since the age of 5. She started her formal training in jazz and ballet with a focus in tap, through the Langlois School of Dance in Plattsburgh in 1985. She has studied her exploration of movement at Laughing Lotus Yoga, Funky Door Yoga Studio, Bikram Yoga Burlington, New York Foundation of Tap NYC, and received her formal training for poi at the Temple of Poi San Francisco in 2009.
She said she first became entranced by poi after seeing it performed in 2005.
"I went to the Women's Festival in Michigan and I saw this lady rocking out with the poi, dancing in the fire and the flow and it was very beautiful and I wanted to do it. That was the summer it really manifested," LeClaire said.
Later that summer, LeClaire said it was just luck that a friend returned from Mexico after learning about poi and taught her how to make her own equipment.

"My first time it was so fun and empowering, I liked doing it and I like sharing it and doing dance routine," said LeClaire. "It's fun, it's empowering it's a great workout, it's a great way to destress, all of these things that people look for in a spinning class."

Though some people have reservations about working with the fire, LeClaire said there are many levels that are accessible for dancers at any athletic level.
"I get everything from 'Oh, I can't do that, not with the fire,' but you can," said LeClaire. "Once you light it and you hear it you dance with it, it becomes exhilarating."

The class is for participants 18 and older and costs $50 to $100 based on a sliding, pay-what-you-can, scale with materials included.
Classes will be held on Thursdays at 6 p.m. beginning on April 4 to April 24 at the ROTA Gallery. Preregistration is requested as space is limited. To register call LeClaire at 562-3243, or stop by the ROTA Gallery during regular business hours, noon to 5 p.m. daily.
"It's for everyone, poi is fun, it's a great workout and it's just lovely."
Vote on this Story by clicking on the Icon