continued — Just recently, they participated in the regional Klondike Derby at the camp, which featured spending the night outside despite frigid temperatures. The experience included orienteering, wilderness survival sessions, fire starting contests, and ice rescue demonstrations — all with a purpose of building self-reliance.
Looking forward to more adventure, the Warrensburg Scouts are ready for another Adirondacks expedition, Hensler said.
"The boys are gung-ho on climbing, so we're going to pick a new challenging destination," he said.
Troop 30 savors adventure
The Boy Scouts of Troop 30 in Chestertown are renowned for being both ambitious adventurous — and 2012 underscored these traits.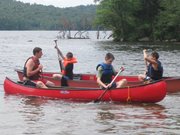 In August, the scouts conducted their own summer camp, planning and overseeing their five days at Lake Eaton, filled with various activities. Next year, they'll not only be conducting camp at Fish Creek and Rollins Pond, but they will be taking a high-adventure expedition, hiking the ≈Northville-Placid Trail — 133 miles long — in several phases.
In 2012, they had a variety of high-adventure experiences, including a 50-mile canoe trip over five days in July from Old Forge to Long Lake, during which the scouts camped out along the way, portaging their canoes between water bodies and backpacking their supplies. and backpacking supplies. July 2012.
The troop has experience at long distance canoeing. In recent years, they've worked on a long-term project to traverse the entire length of the Hudson River.
Such a spirit of adventure has drawn 20 scouts into their ranks, a considerable number in relation to the population of their home-base communities.
Troop 30 also is well-known for delving into community service.
One of their scouts, Christiaan VanNespin, just finished his Eagle Scout project of refurbishing the audio-visual system for the North Warren Central School auditorium and theater. The updating of the facilities included lighting, electronic and sound controls as well as construction work, according to Scoutmaster Chris Stiles.
Vote on this Story by clicking on the Icon