continued — Smith, a junior at LGHS, is working on a project to develop a nature trail for the town of Queensbury — envisioned to provide fun and educational hiking opportunities for area citizens.
Troop 13 has been active throughout the year, Grant Gentner said. Last weekend, the troop went winter camping, which featured a snow hike and an ice fishing experience — we hear the scouts caught quite a few.
In July, the scouts enjoyed the varied activities offered at Camp Wokpominee.
"Our guys have a lot of fun," Gentner said of his 15 active scouts.
They've also helped out others through community service events — whether volunteering to work at community dinners in the region or helping out at major events Like the Hudson Valley Volunteer Firemen's Association parade.
Self-reliance a goal for Troop 100
In Warrensburg, the Boy Scouts of Troop 100 have enjoyed an eventful year, Scoutmaster Ray Hensler II reported this week.
Lance Bedell, who will be receiving his Eagle Scout designation this year, completed a project of constructing a handicapped ramp, with a roof overhead, for the American Legion Hall on River St.
Bedell's fellow scouts, as well as parents, assisted in the project that was well appreciated by Legionnaires. From design and permitting to the finishing touches, Bedell was dedicated to the project.
The Troop 100 scouts have continued their tradition of patriotism, participating in the flag retirement ceremony held in November.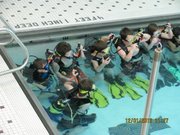 These scouts also know how to have fun, while building self-reliance and developing a strong work ethic.
They've taken various hikes in the region, including their Adirondack High Peaks expedition — a climb in The Cascades during October. They also attended Camp Wokpominee, enjoying the full roster of activities. Incidentally, they attended a work camp on weekends in October to upgrade the premises, which attests to the scouts' volunteer spirit.
Vote on this Story by clicking on the Icon