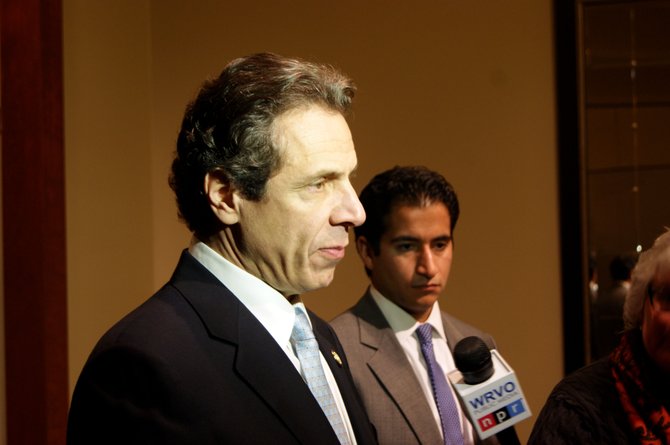 Governor Andrew M. Cuomo, Senate Majority Coalition Co-Leaders Dean Skelos and Jeff Klein, and Assembly Speaker Sheldon Silver today outlined the agreement on the 2013-14 Budget.
The Budget continues the state's focus on economic growth through a series of initiatives to create jobs and grow the economy including new tax cuts for small businesses, a new $350 tax credit for every middle class family, major education investments and reforms, and an increase in the minimum wage to $9 per hour.
With this agreement, the Budget is on track to pass days before the April 1 deadline, with the potential to be the earliest state budget since 1976 and the first time New York has had three consecutive, on-time budgets since 1984.
"This budget agreement puts New York on track to have the third consecutive on-time, balanced, budget that holds increases in spending under 2 percent, while investing in our economy to create jobs and cutting taxes for middle class families and small businesses. This budget symbolizes the tremendous progress that has been made in Albany and demonstrates that the new New York government is once again working for the people of this state," Governor Cuomo said. "Two years ago our state was facing significant challenges, with constant spending and tax increases chasing businesses and people from our state and scandals making our government a joke of late night television. Today New York State is creating hundreds of thousands of private sector jobs, opening the doors to new small businesses, cutting taxes for middle class families to their lowest rates in sixty years, and making education investments and reforms like never before. While there is still more work to do, today's agreement shows that New York is on the move and is rising once again."
Senate Majority Coalition Co-Leader Dean Skelos said, "I am pleased that we have reached agreement on a responsible budget that includes the longtime Senate Republican priorities to create new jobs and cut taxes for hardworking, middle-class families. As part of this budget, we will provide a $350 Family Tax Relief check to families with children, offer incentives to help small businesses create new jobs, and eliminate the energy tax surcharge over the next three years, all initiatives highlighted by the Senate Republican conference throughout the budget process. In the coming days, we will complete passage of the earliest state budget in more than 30 years, our third consecutive early budget. I thank the Governor for his leadership, and commend our Senate Finance Committee Chair Senator John DeFrancisco, my Coalition Co-Leader Senator Jeff Klein, the Assembly leadership and all of my colleagues for their hard work."
(Continued on Next Page)
Prev Next
Vote on this Story by clicking on the Icon