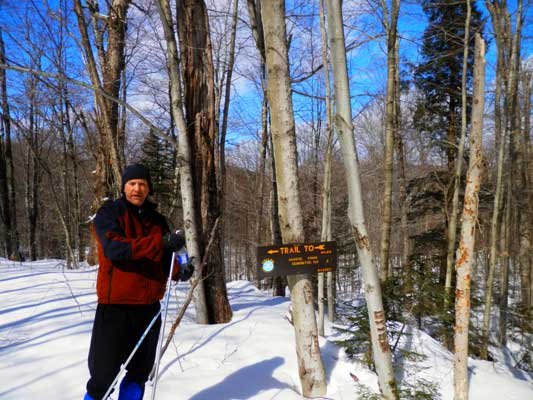 After slogging along behind a long line of visitors, my friend and I slipped off on a side trail that led off away from the crowds, in the direction of Moose Pond, which according to the trail marker was about 7 miles distant.
Although neither of us had planned on a 14 mile, round trip day, the combination of great snow conditions and the lack of company, other than a friendly otter and a shy fisher, were just too much to refuse.
The trail provided a nice mix of long downhill runs, sweeping banked turns and just enough wildlife to keep it interesting.
However, as we got close to the pond, the winds picked up, and the sun was already well off to the west.
We stopped at a trail junction, which indicated it was only .2 miles to the pond, which we could clearly see through the open hardwood forest. And while we could see the ice, we both realized we had already covered a lot of territory, and we had an equal distance to return.
It was a moment we each agreed, deserved a photo. The shots were taken, and soon, with a newly discovered discretion, we turned our older bodies around and followed a well, packed track back to the parking lot.
Tired, and just a bit sore, we both swore we'd do it all again as we got ready to set off in different directions. And if the snow holds up, as it appears it will, we'll be back at it again this coming weekend. While spring may have already sprung on the calendar, there is still plenty of winter to be had before I'm ready to pack away the ski poles and head off to the fishin' holes.
Fortunately, the public is free to visit Camp Santanoni all year round, and they can also camp on some of the more than 12,000 acres which were once part of the private Pruyn estate. And best of all, there are easier ways to get there beyond skiing or hiking. The well maintained carriage road is serviced in season by horse and carriage, and it is open to bicycles as well.
Joe Hackett is a guide and sportsman residing in Ray Brook. Contact him at brookside18@adelphia.net.
Vote on this Story by clicking on the Icon