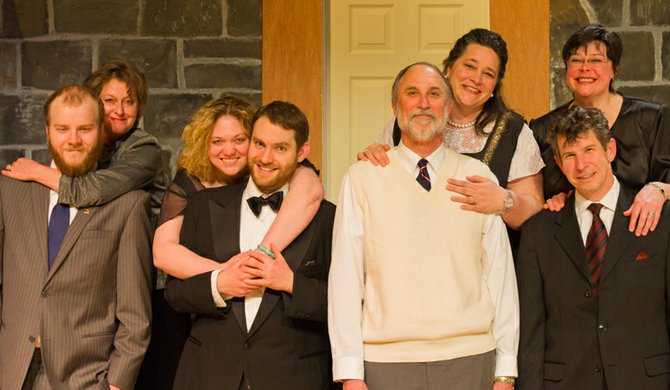 North Creek — There were a lot of questions and a lot of different theories about what happened to the deputy mayor as his friends arrived to celebrate his 10th wedding anniversary. The story will unfold in the Our Town Theatre Group production of "Rumors," by Neil Simon.
The play will be shown on March 22 and 23 at 7:30 p.m. and on March 24 at 1 p.m. at the Tannery Pond Community Center, 228 Main St.

The play is set at a large townhouse where the Deputy Mayor of New York City has just shot himself. As the host lies bleeding in the other room, his lawyer, Ken and wife Chris must get "the story" straight before the other guests arrive. As the other couples arrive, each tries to figure out what happened while trying to keep the shooting from the other guests. All the while, the deputy's wife is nowhere to be found and the servants have left their post. When the police come knocking on the door the reeved up mix of explanations spins off into classic farcical hilarity.
Play director Eric Potter said the audience should get the feeling this sort of high-energy fast-paced comedy could happen in their own life, just a little more zany situations.
"It's those situations that just become crazier and you think this couldn't really happen because it's absolutely outrageous," Potter said. "The hilarity of it is it just keeps becoming more and more extreme."
With a guest list that includes the trusted friends of the deputy mayor of New York and a senate candidate it is the kind of crowd where everyone will be doing whatever they can to be sure the evening's events are kept from the cops—and the press.
"It's the domino effect of lies rumors and what have you that spins this story round and round," said Potter. "There are no lead characters as everyone is a main character. All the cast members are very funny and work well together."

(Continued on Next Page)
Prev Next
Vote on this Story by clicking on the Icon