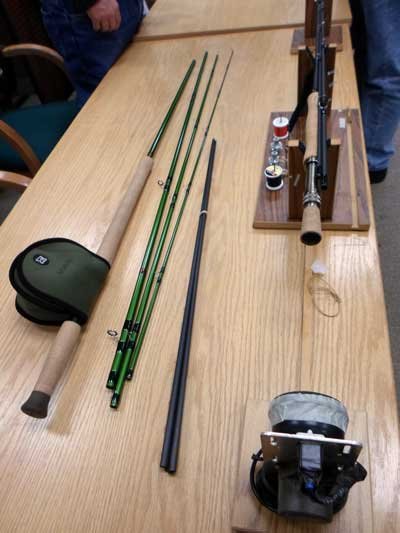 Our Lake Champlain Trout Unlimited Chapter held its monthly meeting at the Gander Mountain store in Plattsburgh last week. Walt Trzcienski, the TU chapter president, opened the meeting. Members spoke on how to build your own fly rod.
The discussions started with the history of fly rods. Initial fishing rods were really tree branches or twigs. A string was tied to a thin willow, or other tree branch along with a hook made of bone and a feather tied to it. Progression then led to solid wood rods that were in sections. The tips being solid wood were fragile, so the butt end of the rod was hollowed out and a screw-on cover attached. The rod tips were kept in the handle or butt end protected. Replacement tips were made of bamboo. From solid wood rods came split bamboo rods which the speaker, Bruce Handley, preferred. After WWII, fiberglass was used, and then came graphite.
The advantages of building your own fly rod are cost. A new factory built rod may cost over $600, but a kit will be one-third to one-half of the cost for a top notch rod. Entry level kits start about $75, which is a bargain for the first-time rod builder. Don Lee and Derrick Miller spoke about the rods they built, the materials such as varnish versus epoxy, single foot ceramic line guides, thread versus silk, how to get the perfect finish on the rod and the tools needed to complete a home grown fly rod. Along with the lower costs of the "do it yourself" rod kits, comes the enjoyment of catching a fish on a rod and fly constructed at the home work bench. Don has built 14 rods for himself, family and friends. Many were given away as gifts. His addiction seemed to have spread to the folks in attendance; I know I want to try it.
Rich Redman is a retired District Conservationist for the USDA Natural Resources Conservation Service and an avid outdoorsman. His column will appear regularly. He may be reached at rangeric@nycap.rr.com.
(Continued on Next Page)
Prev Next
Vote on this Story by clicking on the Icon