continued — After the game, Long said that the team had represented their section well and played a hard game.
"The kids have worked for it all year," he said. "This was a new experience for all of them. I am really excited for this team. The experience of coming here is going to help them tremendously."
Meghan Strong finished her sophomore season with 14 points to go with three steals and a pair of assists. Strong will enter her junior year as the Patriots' three-point career leader, having connected on 98 long-distance attempts. She will also have an outside shot of joining the 1,000-point club, having amassed 616 points in her first three years of varsity.
Playing in her final game for the Patriots, Haley Taylor added eight points, seven rebounds and three steals to the AVCS effort, while fellow senior Sierra Snow added six points, six rebounds and three steals.
"They have both come in and worked from the first time they stepped on a varsity court," Long said. "They have been great leaders during their time with me, and I'm going to miss them."
Madison Rondeau added five points and three rebounds, with Taylor Saltus scoring five points to go with two assists and Logan Snow scoring three points along with three rebounds and two steals.
"We are going to work on getting better in the off season," Long said. "Hopefully, this will give them that drive to want to play here next year."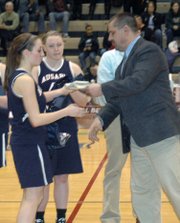 The Patriots ended their record-setting season with a 19-3 mark, becoming the first team from their school to make the Final Four in girls basketball. Logan Snow was awarded the sportsmanship award for her performance in the semifinals, while Strong was named to the all-tournament team.
For Bishop Kearney, Skyler Gausney-Jones scored 23 points, 16 in the second half, to lead the Kings. Edoka scored 12 of her 14 points in the first half, while Kharysma Bryant scored 11. Arianne Smith, Sheila Hawkes and Princella McCullough each scored four points.
The Kings went on to defeat Harpursville, 54-44, to claim the Class C state title.
Vote on this Story by clicking on the Icon