TROY — The AuSable Valley Lady Patriots came back against Bishop Kearney twice in the Class C NYSPHSAA semifinals March 16 at Hudson Valley Community College.
They needed a third.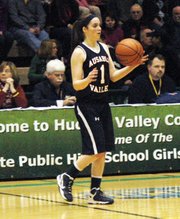 Meghan Strong scored six of her team-high 14 points in the third quarter to turn a 28-21 deficit into a lead midway through the third quarter against the Lady Kings.
It was the Kings that would own the final eight minutes of play, outscoring the Patriots 15-2 and, ending their season in the Final Four with a 56-41 defeat.
"We talked at halftime about needing to get that first run of the second half and get back into the game," head coach Roger Long said. "They exerted a lot of energy in that third period to get back into it, and I think that showed in the fourth."
The Patriots connected on only one of 14 from the field in the last quarter, while 4-of-7 from the field and 7-of-11 from the free throw line. Overall, the Lady Kings went to the line 25 times, while AuSable Valley only got two attempts in the first quarter from Taylor Saltus.
As expected, the Kings used their height advantage, outscoring the Patriots 30-12 in the paint, led by Emamuella Edoka's 14 points.
However, it was a pair of threes from the 6'2" center that hurt AuSable going into halftime.
"We hit a three right before half to close the gap, and she came down and answered on the other end," Long said.
The Kings grabbed 13 offensive rebounds, while the Patriots held their own with 11 offensive boards and 27 overall rebounds to Bishop-Kearney's 34.
"We put a zone defense in this week, and I was concerned because when you are in zone you can have issues with boxing out at times," Long said. "I knew that they were going to come out and try to trap our guards, so we set our screens up high and tried to free up Meghan for one-on-one matchups. Our runners just did not fall."
(Continued on Next Page)
Prev Next
Vote on this Story by clicking on the Icon