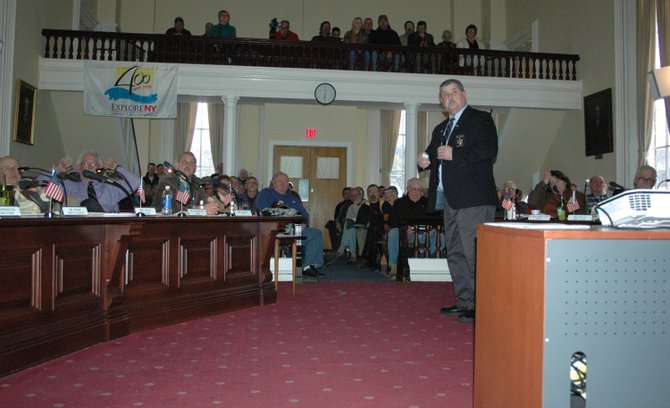 continued — "Our legislators that work for us did not support this," said Belanger, referring to Stec along with Assemblywoman Janet Duprey and Sen. Betty Little.
Monique Weston of Keene said she asked a hunter about the SAFE Act who told her that they had no objections to it.
"I hate to see people going forth and saying that everything in this law violates the Second Amendment," she said. "I think that there are some terrible things in the law and I think that there are some good things. Ultimately, I would like to see this law proved and then amended."
"I feel that this conversation is very important," Michael Rice of Crown Point said. "When we took our son to the pediatrician, they asked if we had guns in the home. I asked them why and they said it was a psychological question. I have a degree in psychology, and it was not a psychological question; it was a personal question that infringed on my rights."
After public comment, Board Chairman Randy Douglas then asked members of the board if they wished to comment.
"This resolution was not done with haste, and it was not done last night," said Chesterfield Supervisor Gerald Morrow, who chaired the SAFE Act Task Force. "The resolution calls for the repeal because it needs to be re-started. There are some things I agree with in this, but not in this form. I will go on record as saying I will not abide by this."
"I think that this was an excellent piece of work that went into this resolution," Lewis Supervisor David Blades said.
"We had a big task and we took it very seriously," Elizabethtown Supervisor Margaret Bartley said. "If we had the power to do away with this law, we would do away with all of the unfunded state mandates that cripple local government. I hope that this resolution will include a list of recommendations that the sheriff has given to us."
Vote on this Story by clicking on the Icon