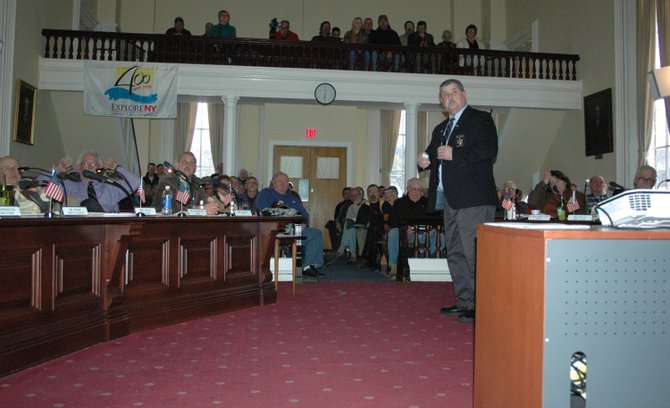 continued — "You gave less than a week for residents to look at it," Duvall said. "The timing with this resolution is similar to the timing of the New York state law. We feel that the time was not there to get the input of all Essex County residents."
Duvall also presented a resolution to the county, asking them to table the current amendment and replace it with one calling for amendment, not repeal.
"We ask that the county revise their resolution to provide a resolution to amend rather than repeal the law," Duvall said. "Talk about different aspects of the law, not just one aspect."
"They did more due diligence than what they served up down in Albany," John Sharkey of Ticonderoga countered. "I take exception to those who said not enough time was put into this. It was more time than the governor ever gave to this in Albany."
"Let' do something that prevents the United States from being ranked as the country that has the most people in prison and the most deaths from firearms," Harrison Caner of Keene said. "Let's do something that cuts down on the availability of these multiple-shot machine guns."
Pat McBride of Ticonderoga said that he was tired of the state "nanny-ing" its residents.
Win Belanger of Willsboro said that he has sold many of his weapons or given them away because of the new law.
"So you do not need to come to my house anymore because I only have a one-round thing. It's called a bazooka," Belanger joked. "We need a law. We do not need this law. The person who is going to break into my house, come into my school or enter a military base, we are not going to stop them with this law."
Belanger is also a staffer of State Assemblyman Dan Stec, who has fought against the SAFE Act and has a petition on his Facebook Page to repeal the law.
Vote on this Story by clicking on the Icon