continued — "There are counties that have said they will not spend any money to enforce the law and I would encourage the county to do the same and commit that you will not spend any money on this law," Sage said. "You should not spend anything on this stupid law. There has to be a way to pick on the criminals than pick on the law-abiding criminals."
Bruno Mazzotte of Moriah Center said that state residents cannot buy many of the rifles that are now made.
"The SAFE Act is going to stop New York residents from buying 75 percent of the weapons that have been made in the last 100 years," Mazzotte. "The politicians are doing everything they can to prevent us from our Constitutional freedoms. Do not let them."
"I would like to let Gov. Cuomo and others know that we love our children as much as they do, and we are not criminals," Gary Raikiewicz of Jay said. "Parts of the SAFE Act would make us criminals as well, and I do not know how many people in Essex County will even comply to it."
Raikiewicz also said he would be in favor of armed guards in schools.
"Is our money in the bank more important than our children," he asked. "We guard our money with guns, but not our children."
"Unfortunately, this is becoming an upstate and downstate issue and that is unfortunate," former Essex Supervisor Ron Jackson said. "Not everything in there is bad, but the way that it was passed was bad. If they had gone through the proper procedures and been vetted, like you did, we would have a very different law."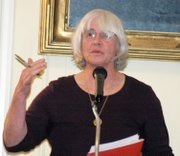 Keene resident Lorraine Duvall claimed the county had done the same thing that the state had done in working on a resolution without what she felt was due process.
Vote on this Story by clicking on the Icon