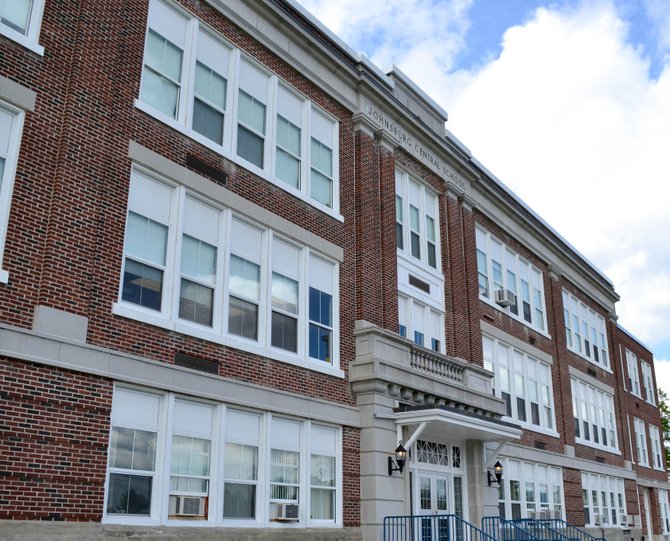 After the regularly scheduled School Board meeting this past Tuesday March 11, Johnsburg Central School Superintendent Michael Markwica and Business Manager Kathy Spring gave a budget presentation to the board.
They explained that the initial starting budget for 2013-2014 year was $10,282,394. This would have been an increase of $584,462 from the approved budget for 2012-2013, which had been $9,697,932. However, after carefully evaluating costs and taking a proactive approach to reducing them, the district is now looking at an increase of 2 to 2.3 percent from the previous year's budget. This is only around half of the tax levy's allowable increase of 4.26.
Spring and Markwica emphasized that have been diligent and conscientious in eliminating and reducing costs as much as possible every new budget year while working hard to maintain the quality of education for all students.
"Part of the budget process is to not just think about last year and this year, but to think about changes that have been made during the past several years, while also looking ahead to what our needs may be in future years," Markwica said.
Reductions
•Guidance Counselor/CSE Chairperson, $106,359
•Health Insurance lower than projects, $59,250
•No bus purchase, $107, 795
•Fewer Occupational Education Students, $18,304
•Various miscellaneous areas of budget reduced, $55,823
•Family PPO Plan, $23,173
•Safety Specialist 1 day per month reduced, $6,335
•Retiring teacher/teaching assistant, $27,555
Additions
•Minivan, $18,500

There will be a budget hearing on Monday, May 13 following the regularly scheduled Board of Education meeting. The budget vote is scheduled for Tuesday, May 21 from noon to 8 p.m. outside the school gymnasium.
Spring also noted that this year they are doing budget workshops differently. Areas of the school budget are organized into "cost centers" which group related expenses into categories of spending. This makes it much easier to understand budget presentations and to see how the costs in each budget area have changed.
(Continued on Next Page)
Prev Next
Vote on this Story by clicking on the Icon