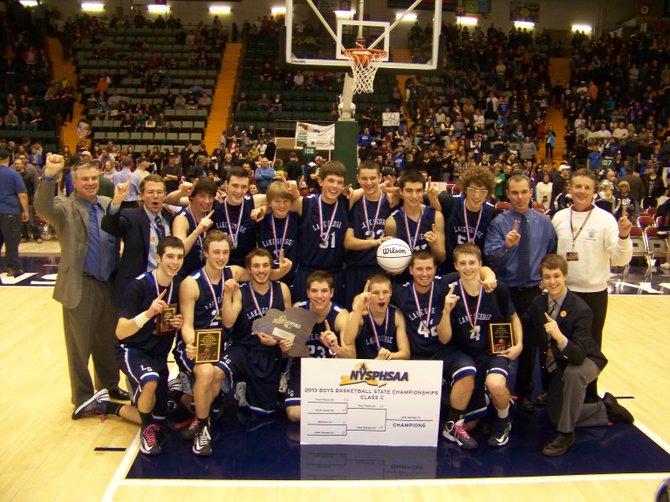 Glens Falls — The Lake George Boys Basketball team combined a clever game plan, frenetic defense, a stellar performance by state tournament MVP Joel Wincowski — and a determined, focused and collaborative effort by each one of his teammates — to win the New York State Class C Basketball Championship Saturday March 16.
The Warriors won the finals by defeating the far taller, top-ranked Pine Plains 35-45 in a come-from-behind victory.
It was not only the first state championship for a boys sport at Lake George High, but also the first time since the late 1970s that any Section II school north of Schuylerville had won a state championship.
Sophomore Joel Wincowski tallied 33 points accompanied by six steals and four rebounds.
He scored seven three-pointers, several of them at critical times that changed the game's momentum, foiling the imposing and talented Pine Plains team.
Lake George forced an astounding number of turnovers with agile moves, overcoming a considerable height deficit. Pine Plains' inside players were 6'9", 6'8, and 6'6, while Lake George's lineup was 6'2" or less.
Lake George's defensive attack was fierce. Despite Pine Plains players' towering height, long reach and jumping ability, Lake George held their own on rebounds, nearly matching their opponents' tally for the night.
They also darted underneath their opponents, stealing the ball repeatedly, several times heaving the ball downcourt to an open teammate for a layup. Their up-tempo defense disrupted Pine Plains' rhythm, particularly in the second half, as well as creating offensive opportunities.
The infamous "Blue Zoo" — the Lake George cheering section — was there in force, energizing the standing-room-only crowd in the Glens Falls Civic Center.
As the last seconds of the game ticked away, the Glens Falls Civic Center was filled with a deafening roar from the crowd —prompted by the Blue Zoo — including thousands of local basketball fans in the region who showed up to support Lake George and Argyle — which won the Class D State Championship earlier in the night.
(Continued on Next Page)
Prev Next
Vote on this Story by clicking on the Icon