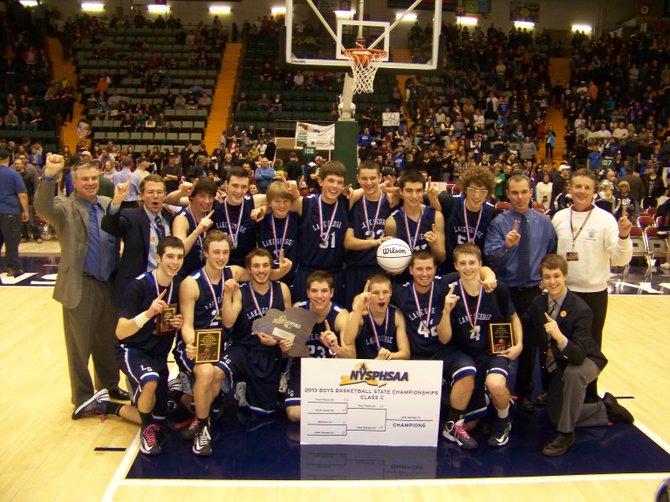 continued — As the last buzzer sounded, tears of joy formed in the Lake George coaches' eyes — as sweat prompted by the physical game trickled down the players' cheeks.
Section II volunteer and North Warren Basketball Coach Jason Humiston watched the crowd go wild. Earlier this season, his team had put up a valiant fight against Lake George, but they lost.
"Lake George's defense was phenomenal," he said. "All the players boxed out — all their moves were fundamentally sound."
Assistant Coach Tim Kissane seemed overcome with joy as he shared hugs with players, school officials and fans near the bench.
"Our athletes were outsized, but they played huge tonight," he said. "They're resiliency was incredible."
Connor McCoy, who played a critical role in several of the tournament games, was honored with the tournament Sportsmanship Award. Joel's brother Ethan Wincowski, who has played basketball with his younger brother since Joel's pre-school days, was named to the all-tournament team. Ethan and Joel later recalled how Joel had practiced his shots for four to six hours a day through his youth, and it paid off in the 2012-13 season — big time.
Lake George Coach Dave Jones held the State Championship plaque aloft, and his players rushed him, nearly lifting him off the game floor in the process.. The athletes then held it up to the roar of the crowd,yelling in joy. They then ran with it over to the Blue Zoo cheering section, and their loyal fans went wild.
Minutes later, Warrior Ethan Wincowski talked about the final game in their remarkable 2012-13 campaign.
"Coach Jones had a good game plan," he said, "Our defense was tough, and Joel keeps coming up big."
Ethan, who'd sunk several key shots that were critical to the win, continued his observations as television cameras focused on the players outside their locker room.
Vote on this Story by clicking on the Icon