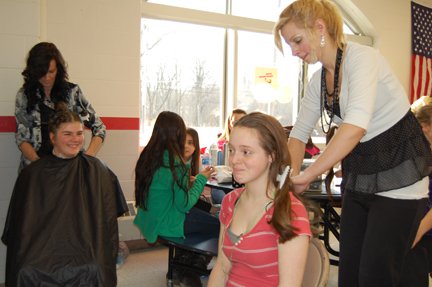 "These girls are at a very vulnerable age and now more then ever with text messaging and Facebook and the availability of constant contact," said Michelle Liberty with STOP Domestic Violence. "It's important they learn about healthy and unhealthy relationships, they might not be dating but it's also about healthy friendships." 
Other programs included a text simulator provided by the Clinton County Sherriff Department where girls too young to drive were able to try to drive in a video simulator while text messaging.
Students from CV-TEC's cosmetic program also was there to give makeovers, give hair cuts and style hair. Educational workshops ranged from making chocolate delights or grab and go snacks to making buttons and jewelry.


The girls were able to get their hearts racing with action-packed workshops including zumba, yoga, dancing, kick boxing, belly dancing, and the fitness room.

"We were happy to see so many were able to come and glad we could get the different schools together," Moore said. "We hope to expand the program in the future." 
Vote on this Story by clicking on the Icon