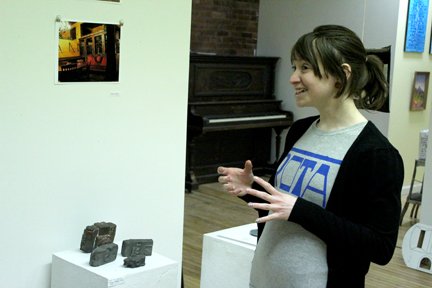 Rigby also likes to place herself in some of her work.
"I like that the slow shutter gets the natural light in the room without using a flash," Rigby said. "I don't look for anything in particular when I photograph, I just know it when I see it."
Beneath Rigby's photographs is a small, white, wooden stand with four silver objects placed on top of it.
The objects are cameras, but only in shape and size.
They are cast iron sculptures, poured by Kaitlyn Donovan, gallery coordinator for ROTA.
The process of creating an iron counterpart of a camera is a time consuming affair, and also requires a small team of people to complete.
First, Donovan covered the camera with silicon caulking to make a mold.
After removing the camera, she filled the silicon with casting wax, which gave her a wax replica of the camera.
Next, she need to create a mold that could hold hot, melted iron.
To accomplish that, she dipped the wax camera into a bucket of ceramic shell, let it dry, and repeated the process several times.
Placed in a kiln, the ceramic shell hardened as the wax melted, creating an empty space for the iron, which is heated in a furnace and carefully poured by a team of at least four people.
The result is a highly detailed, iron facsimile of a camera.

She also used a more traditional, sand mold method to create other iron cameras.
The camera is placed into a box of sand—the finer the grain, the more detailed the final product will be—that has a catalyst added to it.
The catalyst causes the sand to harden, creating a mold of the camera once it's removed.
Donovan said this process is faster because it requires fewer steps, but the trade-off is a less detailed piece.
Vote on this Story by clicking on the Icon