Willsboro — Students at Willsboro Central School decided to put in a little overtime in their building recently, all for a good cause.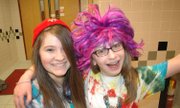 The school's Key Club held its second all-night Walk-a-Thon March 8-9 in the school, with students in grades 7-12 spending the nights walking the halls of the school and participating in games, dances and other activities to keep their eyes open through the night.
"The kids that were in elementary two years ago have been looking forward to the chance to be a part of this, and we for sure have more kids than we did two years ago," Key Club advisor Meaghan Freeman said. "Each student that participates gets sponsored to walk for the night and they have to get at least $25 in order to take part."
"We did this two years ago and donated the money towards cancer research," club president Kyli Swires said. "We had a meeting at the beginning of the year to plan this event, and we wanted to make sure that the money that was raised would go to an organization that would help the local community. We decided to donate to High Peaks Hospice."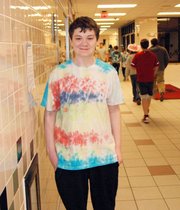 Swires said that prizes and food for the night was acquired with the help of local businesses, which helped lead to a preliminary donation total of $4,340.80.
"I was hoping to hit $3,000," Swires said. "To be almost $1,400 over that is just amazing."
Leading the way for the students was seventh-grader Warren Jackson, who raised $755.
"Mrs. Freeman is my English teacher, and she asked the class about being part of it," Jackson said. "I went through Willsboro, Essex and Whallonsburg asking for donations from people my family knew. My goal started at $50, then went to $100. I kept adding to it and ended up with $755."
(Continued on Next Page)
Prev Next
Vote on this Story by clicking on the Icon