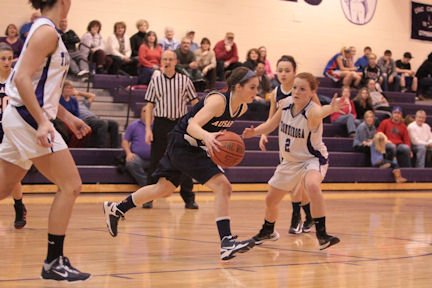 continued — The sectional final came much easier March 1, as Strong scored 16 points, Saltus 15 and Logan Snow 13 in a 58-33 win against Northern Adirondack, advancing the team to a regional final matchup against the top-ranked team in the state, Hoosic Valley.
Led by 20 points from Logan Snow and key free throws late, the Patriots picked up their 11th straight win and advanced to the NYSPHSAA Final Four with a 48-43 victory March 9, setting themselves up against Section V's Bishop Kearney.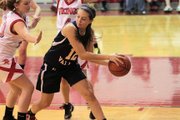 On the season, the Patriots have averaged 51.5 points per game (1,081), while limiting opponents to 32.7 (686), an 18.8 average win margin (plus-394). The team also averaged 10.9 assists per game on the offensive side of the ball, led by Strong's 14.1 points and 4.0 assists.
Saltus averaged 11.4 points and 2.2 assists, while Logan Snow had 8.5 points and one assist. Madison Rondeau averaged 6.7 points, followed by junior varsity call-up Madison McCabe, who has averaged 4.0 points on varsity as an eighth-grader. Haley Taylor has averaged 3.4 points, while Sierra Snow totals 3.1, Bryce Douglass 2.3, Rachel Knapp 1.6 and call-up Sydney Snow 1.0.
On the boards, the Patriots have averaged 37.4 rebounds, being led by Taylor's 7.9 average. Logan Snow has pulled down and average of 6.7 boards, with Saltus adding 5.9 boards, Sierra Snow 5.4, Rondeau 4.1, Strong 3.1, Douglas 3.0, McCabe 2.4 and Knapp 1.4.
Defensively, Saltus was one of the top thieves in the Champlain Valley Athletic Conference, averaging 4.6 steals per game. She was followed by Strong at 3.4 steals, Logan Snow at 2.5, Taylor with 1.9, Rondeau with 1.8 and Sierra Snow with 1.4. Collectively, the team averaged 16.9 steals.
You can listen to the NYSPHSAA Class C semifinals between AuSable Valley and Bishop Kearney live through our Spreaker Page, www.spreaker.com/user/keith_lobdell.
Vote on this Story by clicking on the Icon