Putnam — As Chief Warrant Officer Tom Bain brought his plane to a rest Feb. 22, the aircraft was sprayed by ground crews.
No, it wasn't an emergency landing. It was Bain's last flight.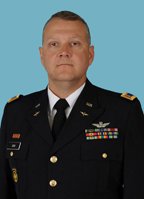 "Our aviator tradition is to soak down the plane and pilot as they taxi in after their final flight," the Putnam native explained. "Fire trucks spray water high into the air over the aircraft and it cascades down in a dense shower. As I exit the plane, I was greeted by a soaking by sparkling grape juice — a change made from the normal champagne for my benefit as I no longer drink alcohol."
Bain, a Ticonderoga High School graduate will officially retire after 23 years in the Army June 30. Feb. 22 was his last flight as a pilot-in-command.
It's been a great career, he said.
"We soldiers hear over and over again how a grateful nation thanks us for our service," Bain said. "I want to take this opportunity to thank people for their generous support. While deployed overseas I have received many years worth of Christmas packages and cards from complete strangers and Valentine cards from an entire fourth grade class of school children. I have been greeted at airports by throngs of people welcoming soldiers home from various combat zones. I also have been given thanks by strangers for my service while waiting in the checkout line at stores while in uniform. Thank you for your kind words."
Bain enlisted in the Army in 1985 after graduating from Ticonderoga High School. He became an Apache helicopter mechanic serving in Fort Hood, Texas, and Illesheim, Germany.
He then left the Army, temporarily, to attend college in Buffalo before re-enlisting in 1993 to pursue his dream of becoming a helicopter pilot.
"In 1994 I attended the Warrant Officer Candidate School at Fort Rucker, Ala., followed by helicopter pilot training at the same location," he said. "At the time of my retirement, I will have been a pilot for the Army for over 19 years. In that time I served as a scout pilot flying a Kiowa Warrior, a MEDIVAC pilot flying a UH-1 Huey and a fixed-wing pilot (airplane) in the military intelligence community."
(Continued on Next Page)
Prev Next
Vote on this Story by clicking on the Icon