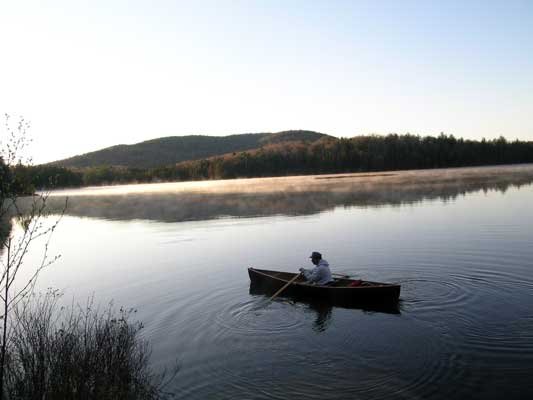 The recent thaw has raised the expectations of many local anglers for another early ice out, as any of the region's lakes and ponds were free and clear of ice for the opening day of trout season on April 1st.
On several smaller pond in the area, I've already observed the telltale spider webbing that usually occurs as the ice begins breaking up.
And on larger waters, the areas around the inlets and outlets the open water has been growing larger every day. I've already begun sorting through my gear, checking the hook points and respooling the lines.
I've also been polishing my Wabblers, Christmas Trees as well as the Sutton and Hinkley spoons. I use fine emery cloth and steel wool for this duty, and I seal the deal with a light spray of clear nail polish, that is mixed with a light solvent.

In the early season, I believe the fish are attracted to more flash and sparkle, than they are later in the season.
There is no doubt the fishing bug has already bit already. I've already been scouring the old maps, and searching through old journals in anticipation.
And I noticed while passing through Tupper Lake last week, the Bog River Falls inlet was already opened up for nearly a half mile down the lake, and there was at least one ice shanty in precarious position.
As per NYSDEC regulations, all ice shanties must be removed from the lakes and ponds by March 15. According to the Department of Environmental Conservation, owners who fail to remove structures by that date can be ticketed and fined $100. That's not really a very pleasant way to end the hardwater season.
Old anglers never die, they just loose their tackle
There is a popular saying that, "old anglers never die, they just smell that way." While that may be true in some cases, the remains of fishermen that were recent discovered off the coast of California, raised more than a sniff.
Joe Hackett is a guide and sportsman residing in Ray Brook. Contact him at brookside18@adelphia.net.
(Continued on Next Page)
Prev Next
Vote on this Story by clicking on the Icon